Sports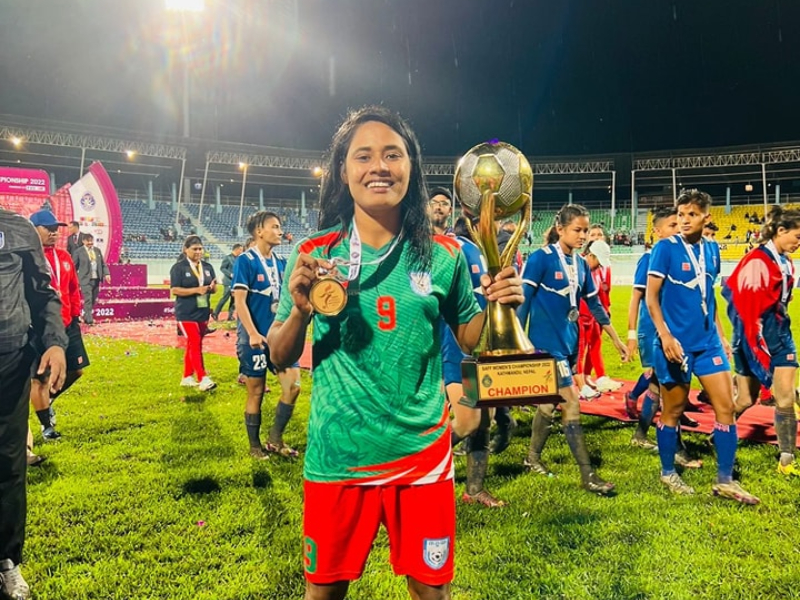 Photo: Collected
This feeling cannot be expressed in words: Krishna Rani Sarkar
Sports Correspondent, Kathmandu, Sept 20: Krishna Rani Sarkar scored two goals in a 3-1 victory over Nepal. In the final, when the Bangladesh team was leading 1-0 at the break, Krishna doubled the gap in the 41st minute. Bangladesh was leading 2-0 until 69 minutes. But in the 70th minute, Nepal scored a goal and put thought into the Bangladesh camp. Bangladesh needed one more goal to secure the win then. Krishna scored that goal in the 77th minute. After that goal, Nepal basically got knocked out of the match.
'How are you feeling?' In reply to this question, Krishna said, "I cannot express my feelings in words, I am very happy. I scored two goals in the final, we became champions. What can be more joyful than this!"
'Team becomes champion, and you scored two goals. Which one is more joyful to you?' Krishna's answer is, "Actually, both. The greatest joy is being a champion. But when they scored a goal, there was a little worry. If they could score another goal, it would be equal. Just then I scored my second goal. So I am so happy that I cannot explain it in words."
Krishna was also a member of the team that won the title of SAFF U-18 Championship in 2018. She said, "This time the joy is more. Because the status of champion at the senior level is different."