Sports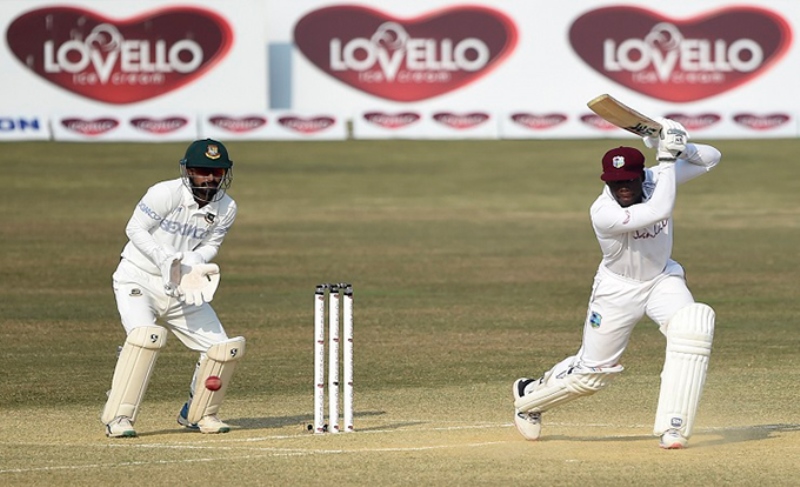 Collected
West Indies script incredible victory against Bangladesh
Dhaka, February 8: The West Indies won by chasing a mountainous goal by making the impossible possible. In fact, they have made the job possible even after being a low power team. The team made up of youngsters explained to the hosts that the game on field is the real thing.
In the 144-year history of Tests, no one has scored a double century in the fourth innings, but Kyle Mayers did it in his debut. His unbeaten 210-run innings helped the West Indies win by 3 wickets.
However, Bangladesh captain Mominul Haque could not accept this result which shocked the hosts. Rather this loss seems incredible to him.
Chasing a huge target of 395 runs, this match is the record for most runs chased on Asian soil. But on the third day of the match, Taizul said, 250 runs is enough for this wicket! But after losing the match, Mominul said, "Such a loss is really unbelievable. But this is how the game goes. A lot of incredible things happen in cricket. Something like that was not expected. I think the bowlers could not bowl in the right areas. Their two batsmen have batted very well."
However, while praising Kyle Mayers for winning the incredible match, Muminul said, "He has done a great job. It is not easy to bat like this here. Chasing about 400 in the second innings, 200 by himself. That's great."
Bangladesh could not take a single wicket in the first session of the fifth day of the match on Sunday. As a result, Kyle Mayers and Nkrumah Bonner put pressure on the Bangladesh camp. The hosts could not get out of the pressure given by the two Caribbean batsmen. Mominul, however, never thought they would lose the match, "I never thought so. The last four days we have shown dominance. I lost the match at the end of today. I didn't even think I would lose the match in the end."
Asked about the biggest reason for the loss, the Bangladesh Test captain said, "You can't blame the team when it loses. I don't think there is a specific reason for the defeat. When the team lost, we all lost together."