All Bangladesh
Will not allow anyone to enter the border: Home Minister
Students panic as SSC question paper leaked
Evil practice of corrupt politics in the country was, still is: Outgoing IGP
Ban against RAB aims at behavioral change, not a punishment: Ambassador Peter Haas
Coronavirus: Two deaths, 679 new cases across Bangladesh on Thursday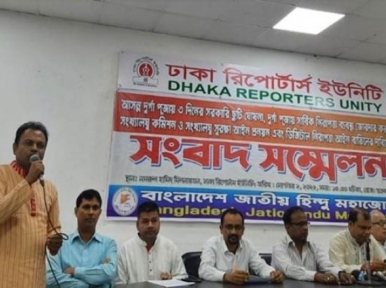 Dhaka, September 2: The Bangladesh National Hindu Mahajote has made a four-point demand, including a three-day official holiday on Durga Puja. These demands were presented in a press conference organized at Dhaka Reporters Unity Auditorium on Friday (September 2).
Dhaka, July 3: The 400-year-old traditional Sri Sri Yasho Madhab Rath Yatra and month-long fair of the traditional Hindu community of the Indian subcontinent has started at Dhamrai in Dhaka. The journey begins on Friday. The journey will end on July 9 with the reverse chariot pull. However, the fair organized on this occasion will continue throughout the month of July.
Dhaka, July 1: One of the traditional religious festivals of the followers of traditional religions, the traditional rath yatra has started today. Many formalities, including the historic chariot parade, were canceled last year due to a widespread coronavirus infection. This time, as there are no restrictions, extensive preparations have been made by various religious organizations, including the International Society for Krishna Consciousness (ISKCON).