Travel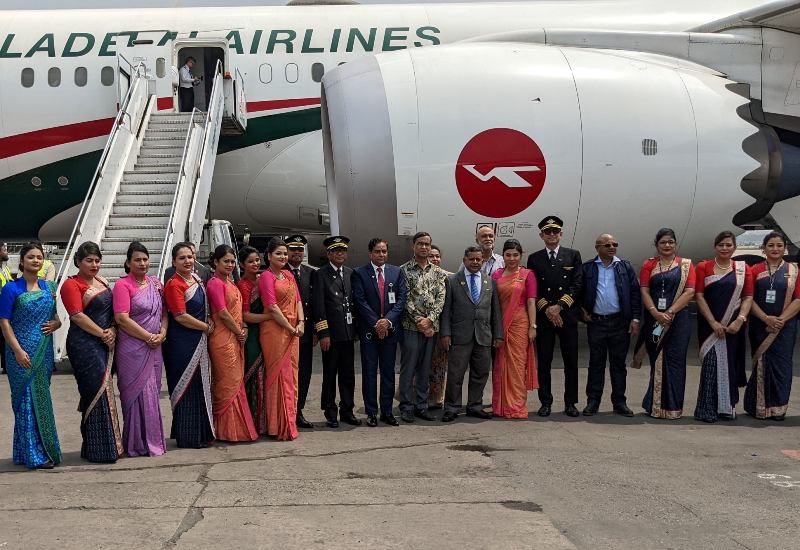 Photo: Collected
'Sonar Tori' returns to Dhaka from Toronto
Own Correspondent, Dhaka, March 31: An experimental flight of Biman Bangladesh Airlines has arrived in Dhaka from Canada's Toronto as a part of the direct commercial flight service between Bangladesh and Canada.
The experimental commercial flight BG306 (return flight) landed at Hazrat Shahjalal International Airport in Dhaka at 12:40 pm Bangladesh time on Wednesday (March 30). Earlier, the 'Sonar Tori' took off from Toronto Pearson International Airport in Canada at 10:25 am local time for Dhaka.
The flight departed from Dhaka to Toronto for the first time on March 26 on this one of the longest routes in the world. The flight successfully landed at Toronto's Pearson International Airport on March 27, after a continuous flight of 18 hours and 35 minutes amid snowfall. The state-of-the-art Boeing 787-9 Dreamliner 'Sonar Tori' successfully operated the nonstop Toronto flight. Bangladesh Biman named the two flights, including a return flight, as experimental commercial flights.
According to a press release signed by Tahera Khandaker, Deputy General Manager (Public Relations) of Biman Bangladesh Airlines, Biman Bangladesh Airlines has been able to demonstrate and prove its capability by putting an end to many speculations. This is the reflection of Father of the Nation Bangabandhu Sheikh Mujibur Rahman's amiable saying "No one can keep Bengalis under control". According to the pilots, this is the second ultra long range flight in the world.
Considering the ancillary issues including code sharing, Biman is determined to maintain its relentless progress with the slogan 'Akashe Shantir Neer' (Nest of Peace in the Sky) from next June. It is also mentioned in the notification that the milestone aircraft has been able to take Bangladesh to a unique height in the Mujib Year.