Travel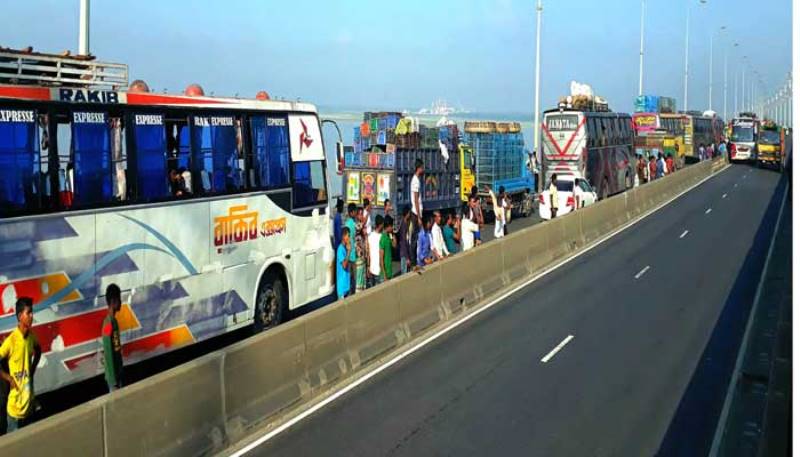 Collected
25,000 vehicles cross the Bangabandhu Bridge in 24 hours
Dhaka, May 8: People are leaving Dhaka with their families. Due to this, the pressure has increased on the Dhaka-Tangail-Bangabandhu Bridge Highway, the gateway to North Bengal. In the last 24 hours, more than 25,000 vehicles have crossed the Bangabandhu Bridge. The toll of Tk 1.90 crore has been collected. Several sources at the bridge authority confirmed the matter at noon on Saturday (May 8).
It has been seen on the spot that even though inter-district public transport is closed, 300 buses have crossed Bangabandhu Bridge. In addition, vehicles engaged in the transportation of goods, private small vehicles and motorcycles have moved more.
Meanwhile, the pressure of people returning home from the morning has increased the pressure of extra vehicles on the highway. People are returning home in freight trucks, open trucks, pickups, microbuses and private cars.
Meanwhile, transporting passengers in trucks, pickup vans, private cars, microbuses and motorbikes is not being observed. They are returning home with the risk of infection.
Yasir Arafat, in-charge of the Elenga Highway police outpost, said the pressure on the Dhaka-Tangail-Bangabandhu Bridge highway has increased as ferry services on the Paturia-Dauldia route have been suspended. Besides, a case is being filed against the long-distance bus for disobeying the instructions. He said that with the increase of the day, the traffic will be normal.