Travel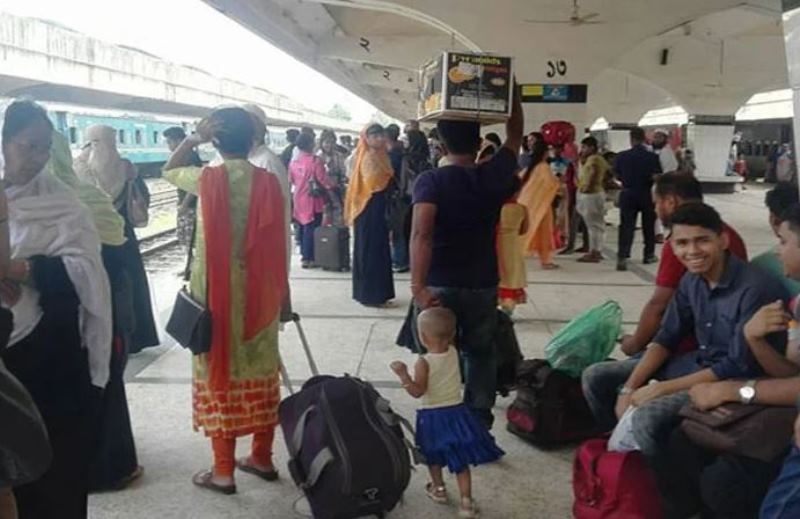 Photo: Collected
53 pairs of trains running on first day of Eid jatra
Dhaka, June 24: On the occasion of Eid-ul-Azha, one of the main religious festivals of Muslims, the train movement of Eid jatra has started today on Saturday. Eid journey started by train through Dhumketu Express at 6 am. On the first day of Eid jatra, 53 pairs of intercity and local trains will ply to different destinations in the country.
According to railway sources, 25 percent of the total seats will be sold without seats or standing tickets this time too. These tickets are available from Dhaka (Kamalapur), Dhaka Cantonment, Airport and Joydevpur Station. Only unseated tickets can be purchased from the station counters on the day of departure.
This time, about 29,000 seat tickets have been sold daily on the inter-city train from Dhaka during the Eid journey. Three pairs of special trains will run from Dhaka Cantonment Station for smooth operation of Kamalapur station.
Before this, advance ticket sales of inter-city train Eid trip started from June 14. As per railway plan, June 24 tickets are given on June 14. Similarly, advance tickets for June 25 are given on June 15, June 26 on June 16, June 17 for June 27 and June 28 are given on June 18.
Similarly, Eid Yatra train return advance tickets will start from June 22. Tickets for July 2 were given on June 22. Return train tickets will be given on 23 June 3 July, 24 June 4 July, 25 June 5 July and 26 June 6 July respectively.
This time advance train tickets are 100% online but some changes have been made in ticket sales. Advance tickets are offered online in two parts. Advance tickets for all intercity trains plying in the western region during Eid Yatra are available online from 8 am onwards. And from 12.00 noon, train tickets for the eastern region are sold online. The railway authorities will run a total of eight pairs of special trains on different routes this Eid-ul-Azha.