Travel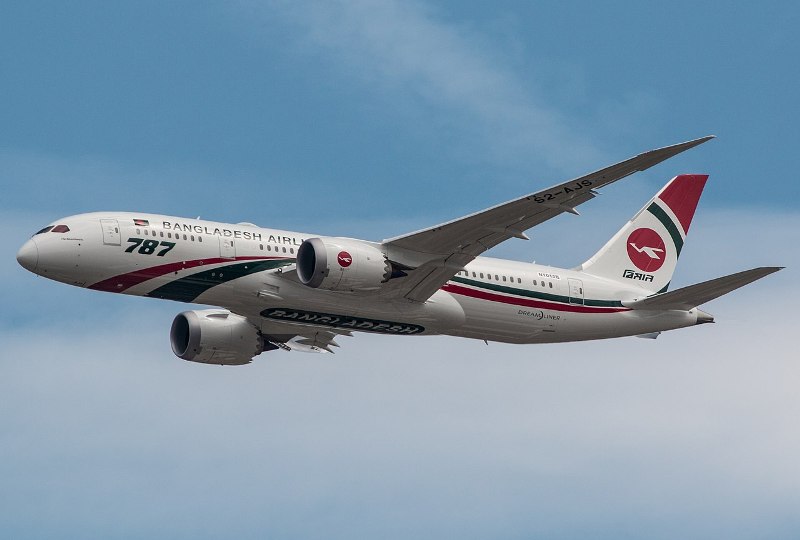 Steve Lynes/Wikipedia
Air traffic in Bangladesh to double in next 10 years: Boeing
June 2, 2023: Aviation in Bangladesh will double in the next decade due to Bangladesh's growing population, expanding economy and growing middle class, US aircraft manufacturer Boeing has predicted.
Boeing detailed the growing demand and capacity for air travel in Bangladesh in a briefing on its Commercial Market Outlook (CMO) on Wednesday.
According to Boeing, Bangladesh is expected to achieve annual economic growth of more than 5.0 percent by 2032, double the global average.
"Capacity in Bangladesh has increased by 11 percent over the past year as travel restrictions eased," Boeing's managing director of commercial marketing for Asia Pacific and India, Dave Schulte, said on Wednesday.
He said, due to regional traffic in the Middle East and India, the air traffic of Bangladesh may double in the next 10 years.
Boeing predicts South Asian airlines will need more than 2,300 new commercial aircraft over the next 20 years to meet strong demand for passenger travel and air cargo.
"We see tremendous opportunity in South Asia, with more than 80 percent of new deliveries supporting air travel growth and 20 percent replacing older, less fuel-efficient aircraft," Schulte said.
About 90 percent of South Asia's future fleet will be single-aisle aircraft such as the Boeing 737 family, and 10 percent of the regional fleet will be wide-body aircraft such as the Boeing 787 Dreamliner. Biman Bangladesh Airlines and US-Bangla Airlines currently operate two models of aircraft.
He said that Boeing aircraft played an extraordinary role in the rapid growth of commercial aviation in Bangladesh. "Commonality across the aircraft fleet will play a key role in driving growth, particularly as it enables us to reduce operating costs and expenses associated with training and maintenance for our airline customers," said Boeing's managing director of commercial marketing for Asia Pacific and India.