Travel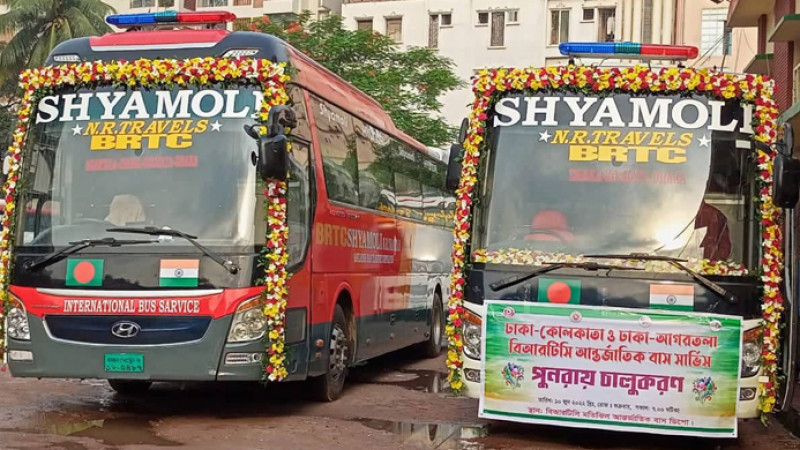 Collected
Bangladesh-India bus service resumes after two years
Dhaka, June 10: Cross-border bus service between Bangladesh and India has been resumed through Akhaura-Agartala and Benapole-Haridaspur checkposts. The two routes were closed for more than two years due to the Covid pandemic. The first bus from the capital's Kamalapur Bangladesh Road Transport Corporation (BRTC) depot left for Kolkata at 7:30 am on Friday (June 10). BRTC chairman Tajul Islam told reporters that buses have started plying on four routes at the beginning. The Dhaka-Sylhet-Shillong-Guwahati bus route will be decided later.
The resumption of the bus service, which was suspended for 27 months due to the coronavirus pandemic, is expected to boost tourism in Bangladesh and India and strengthen ties between the two countries. Besides, buses will start plying through Tamabil-Dawki check post in time if necessary clearances are obtained from the governments of Bangladesh and India.
The bus service is a major step towards affordable and people-friendly communication between the two neighboring countries, which is also a popular means of transportation between Bangladesh and India.
Bangladesh-India bus service was cut off in March 2020 due to Corona. Though there were plans to re-launch the service in March this year, it could not be implemented due to visa complications.
Buses will leave from India every day at 7 am from the Karunamayi counter in Salt Lake. On the other hand, the bus will leave Dhaka at the same time. Shyamoli Paribahan buses will run from Kolkata on Mondays, Wednesdays and Fridays. The bus will leave Dhaka for Kolkata on Tuesday, Thursday and Saturday.
The Bangladesh Road Transport Corporation (BRTC) will run buses from Kolkata on Tuesday, Thursday and Saturday for the remaining three days. No country bus will run on Sunday.
On the other hand, buses will also run on Kolkata-Dhaka-Agartala route three days a week. The Agartala bus will leave Kolkata at 12 noon. The train will leave Agartala at 4 pm for Kolkata.