Travel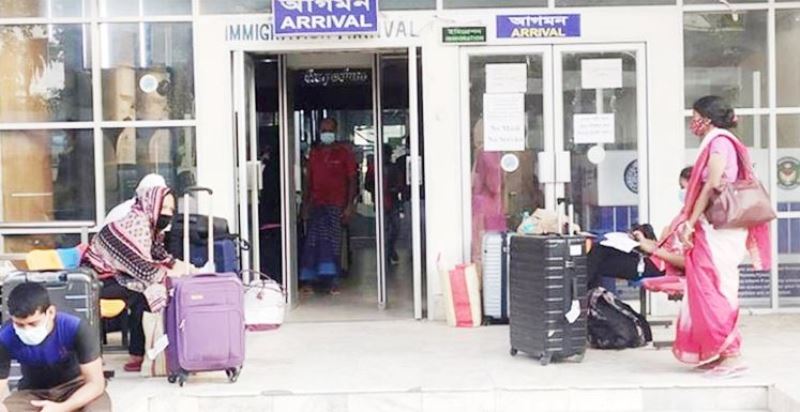 Collected
Bangladeshis are returning through Benapole with special permission
Daka, April 28: In order to prevent a new type of corona in India, the Bangladesh government has announced a 14-day travel ban on the border between the two countries and the stranded passengers are returning home with the special permission of the embassy. However, the travel of new passport holders to India and Bangladesh is still closed.
Bangladeshis waiting to return to the country on the Indian border said the border closure should have been announced at least a day earlier. Then they would not have to suffer at the border. Most of the passengers stranded on the other side were patients and students. It is learned that many patients are getting sick due to being stuck for the last two days.
Of the more than 300 passengers stranded at Petrapole in India, 70 Bangladeshis have returned home through the Benapole checkpost. They returned to the country on Tuesday (April 26).
Following the formalities of the Immigration and Health Department, they were placed in a 14-day quarantine at a residential hotel in Benapole. They will stay there at their own expense. They returned home with NOC (No Objection Letter) from the Deputy High Commission of Bangladesh in Kolkata.
According to Benapole checkpost immigration sources, the Bangladesh government has announced a ban on the passage of passengers with passports between the two countries by land from April 26 to May 8 to prevent the spread of the new type of corona in India. However, the ban states that if the Bangladeshi embassy has a clearance, they will have the opportunity to come and go.
On Monday (April 27), no Bangladeshi passenger could travel between the two countries during the day, but suddenly six Bangladeshis entered the country in the evening. Besides, a total of 44 people entered till 4 pm on Tuesday. Of the 44 returning Bangladeshis, five are working in the Bangladeshi Sub-High Commission office in Kolkata and their family members. One was a player of Bangladesh national team. The rest were ordinary passengers, most of whom went for treatment.
Meanwhile, the Indian embassy instructed on a website to make arrangements for the repatriation of Indians stranded in Bangladesh. As a result, several of the Indian nationals stranded in Bangladesh have already been allowed to return home. 56 people got clearance till 4 pm on Tuesday. And 14 people have returned to India till 4 pm.