Travel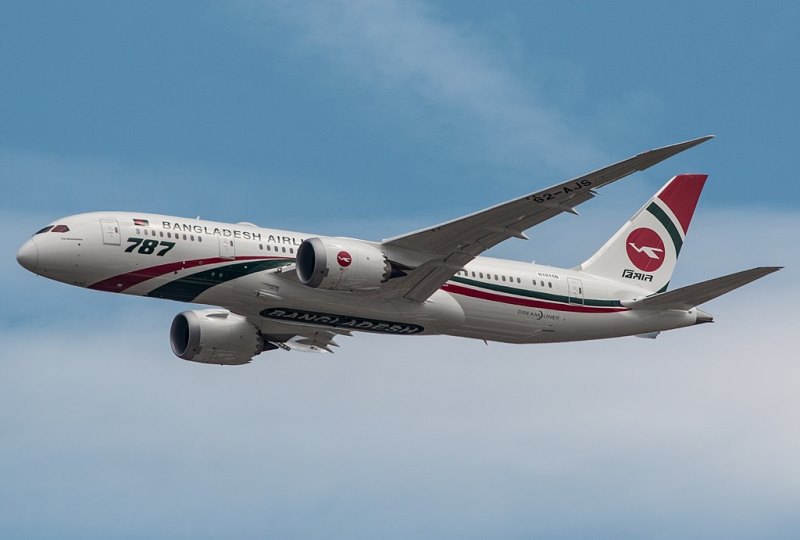 Steve Lynes/Wikipedia
Biman Bangladesh suspends Saudi Arabia flights for five days
Dhaka, May 20: Biman Bangladesh Airlines has suspended all flights to Saudi Arabia from May 20 to May 24. The decision was announced to the media in a notification on Thursday (May 20).
According to sources, the state-flagged airline has decided to suspend all flights to Saudi Arabia for five days due to various conditions, including hotel quarantine.
Passengers booked for 20-24 flights are specially requested to contact any of the nearest aviation offices to book their hotel and schedule their next flight. Passengers booking for travel at this time are specifically requested to contact their nearest airline office to book their hotel and schedule their next flight.
In a recent order, the country's government imposed new restrictions on the entry of migrant workers from Bangladesh to Saudi Arabia from May 20. Those who have not been vaccinated against coronavirus will have to stay in a mandatory institutional quarantine at the hotel for seven days if they enter Saudi Arabia. In that case the passenger will have to bear the cost of the hotel themselves.
According to the Saudi Arabia, within 72 hours of reaching, the corona negative report through PCR system will actually only allow passengers to board the flight from Dhaka. After arriving in Saudi Arabia, the passenger will have to test the corona twice more. The first test must be done within 24 hours of arrival. Corona will be tested again on the 6th day. The cost of the test will be borne by the passenger. The negative report in the test will allow passengers to go home on the 7th day from hotel quarantine.
Also, those who have received the full dose of the vaccine must carry a certificate of immunization. In that case, those who have taken two doses of Pfizer-BioNTech, two doses of Oxford-AstraZeneca, two doses of Moderna and one dose of Johnson & Johnson vaccines will get the benefit of staying at home quarantine instead of staying in the formal institutional quarantine at the hotel.
Meanwhile, the government will impose a five-year jail term and a maximum fine of 500,000 Saudi riyals on anyone who spreads the coronavirus. If the person is an expatriate, he/she will be deported from Saudi Arabia after being punished, and he/she will never be able to return to Saudi Arabia.