Travel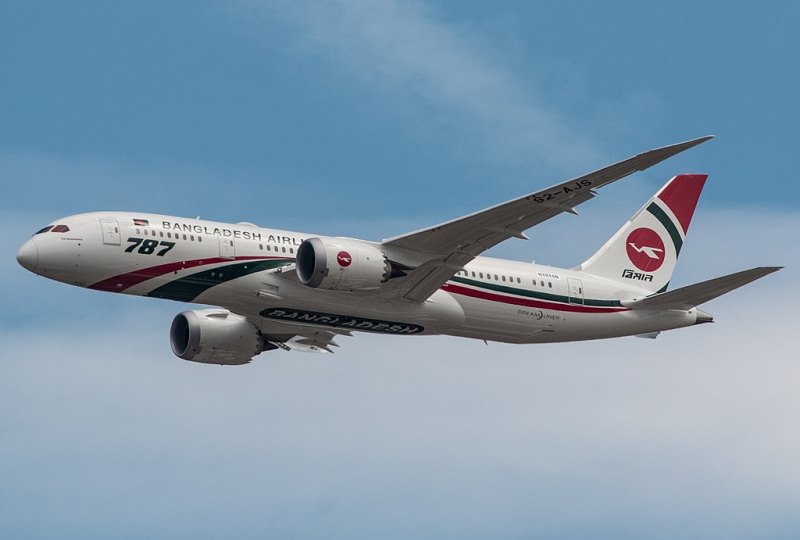 Steve Lynes/Wikipedia
CAAB allows International flight operations
Dhaka, May 1: The Civil Aviation Authority (CAA) has announced its decision to resume international flights on special conditions from Saturday (May 1) until further notice. A notification in this regard was issued on Friday (April 30) night. However, the notification has imposed some restrictions on communication with 38 countries.
According to CAA, the notification has temporarily cut off communication with high-risk countries and made a 14-day institutional quarantine mandatory for passengers from high-risk countries.
The 38 countries have been divided into two groups considering the risks in the notification. There are 12 countries in Group A. These are Argentina, Brazil, Colombia, Costa Rica, Cyprus, Georgia, India, Iran, Mongolia, Oman, South Africa and Tunisia.
According to CAA, no passenger from these countries can enter or leave Bangladesh. However, Bangladeshi expatriates (non-resident Bangladeshis) residing in the countries can come to Bangladesh with the special permission of their respective embassies. In that case, before they set foot in Bangladesh, they have to book a hotel designated by the government at their own expense for a 14-day institutional quarantine.
Group B has 26 countries. These are: Austria, Azerbaijan, Bahrain, Belgium, Chile, Croatia, Estonia, France, Germany, Greece, Hungary, Iraq, Kuwait, Italy, Latvia, Lithuania, Netherlands, Paraguay, Peru, Qatar, Slovenia, Spain, Sweden,Switzerland, Turkey and Uruguay.
According to CAA, those from these countries (excluding Bahrain, Kuwait and Qatar) will have to stay in the hotel for 14 days at their own expense. However, expatriates from Bahrain, Kuwait and Qatar must return to the country in a three-day mandatory institutional quarantine. After three days, they will be tested for corona. Even if the report is negative, they will have to stay in the home quarantine for 11 days.
CAAB said that those from countries other than the 38 countries listed in Group A and Group B were being instructed to stay in the 14-day home quarantine. In addition, everyone who arrives in Bangladesh will have to undergo a coronavirus test 72 hours before the start of the journey and return home with a coronavirus negative certificate.
The Civil Aviation Authority (CAA) had decided to suspend regular flights on international routes till May 5 in coordination with the ongoing government restrictions in the country to prevent the spread of the deadly coronavirus. CAAB had made the decision on Tuesday (April 28).