Travel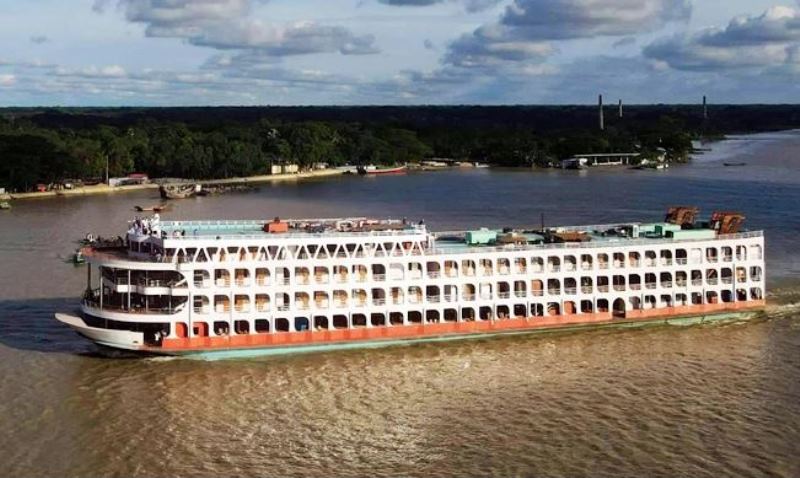 Photo: Collected
Country's largest launch inaugurated
Own Correspondent, Dhaka, Nov 17: A luxury launch named MV Sundarban-16 has been inaugurated on the Barisal-Dhaka route.
Barishal City Corporation Mayor Sadiq Abdullah inaugurated the launch on Wednesday (November 16) evening. The launch was built by Sundarban Navigation Company, one of the boat manufacturers in the country. 15 more launches of this company are plying on the waterway. However, the owners claim that the Sundarban-16 launch will surpass other launches in terms of modern decoration, construction style and technology. They claim that the new launch has the largest passenger capacity and the largest size in the country.
The launch, modeled after a large ocean-going ship, has various measures to attract passengers. The four-story launch has a capsule lift for ascending. Besides, there are all entertainment facilities including River Site Chinese Restaurant, Android Television, Kids Zone, Water Fountain, Open WiFi facility. Apart from this, there is a separate place for passengers to pray and a Coronary Care Unit (CCU) for heart patients. CCTV cameras are installed throughout the boat for security. A commander and six armed Ansar members will be responsible for the safety of the passengers on the launch. Various safety equipment including buoys and life jackets are kept.
Ashikur Rahman Sagar, who is supervising the construction of the launch, said that the launch was built at the Sundarban Navigation Dock Yard on the banks of the Kirtankhola River under the design of an expert naval architect and under the close supervision of the panel engineers of the Department of Sea Transport. The launch corridor is aesthetically designed. Aesthetically designed through window glass, use of wood, color. For deck passengers there is smooth carpeting on the ground floor and second floor. Several large TVs are fitted to entertain passengers on deck. There is a state-of-the-art sound system and open WiFi system.
He also said that the construction of the launch started five years ago. The construction work was stopped for almost two years due to various problems including Corona. As such, 100-150 workers worked tirelessly every day for three years. At the end of the construction work, it was floated in the water. Various details have been checked in the passenger transport including the engine.