Travel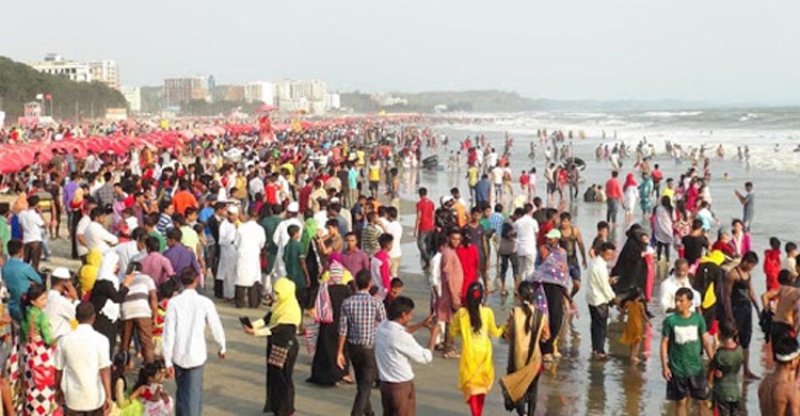 Photo: Collected
Cox's Bazar beach full of tourists
Own Correspondent, Dhaka, Oct 8: Lakhs of tourists flocked to Cox's Bazar on the occasion of Durga idol immersion, weekend, and Eid-e-Milad-un-Nabi (PBUH) holiday. Cox's Bazar beach is now full of tourists.
Wednesday was a weekend from the day after the idol immersion. Sunday (October 10) on the holy Eid-e-Milad-un-Nabi (PBUH). Tourists have flocked to Cox's Bazar to spend their leisure time on puja, weekly and public holidays. All tourist spots including Kalatali, Sugandha, and Labani points, Himachari, Inani have become bustling with tourists.
There is also a crowd on the various roads of the city and tourist areas. Due to the non-carrying of passengers without reserve, there is a shortage of vehicles. It is alleged that public transport is bypassing the locals while grabbing the reserve fares of the tourists. Tourist businessmen are expecting hundreds of crores of business during these consecutive days of vacation.
According to the information of Cox's Bazar Hotel and Guest House Owners Association, Cox's Bazar has more than four and a half hundred hotels-motels, resorts, and cottages, where lakhs of tourists can stay. Tourist arrivals have been good since the beginning of October. All hotels are almost booked. Since the tourist season has started, they call this crowd Shubo Lakshman.
Cox's Bazar Police Superintendent Md. Mahfuzul Islam said that the crowd has increased since the last day of Durgotsav. He said security has been strengthened at three levels in the entire city, including tourist spots. The traffic police are working on the surrounding roads from Kalatali on the beach to clear the traffic jam.
District Administrator Md. Mamunur Rashid said, to stop tourist harassment, hotel-motels and restaurants have been ordered to hang price lists. There are several mobile courts in the field headed by the Executive Magistrate of the District Administration. Along with the police, district administration officials are also working to strengthen all kinds of security. There have been no reports of any disturbance so far.