Travel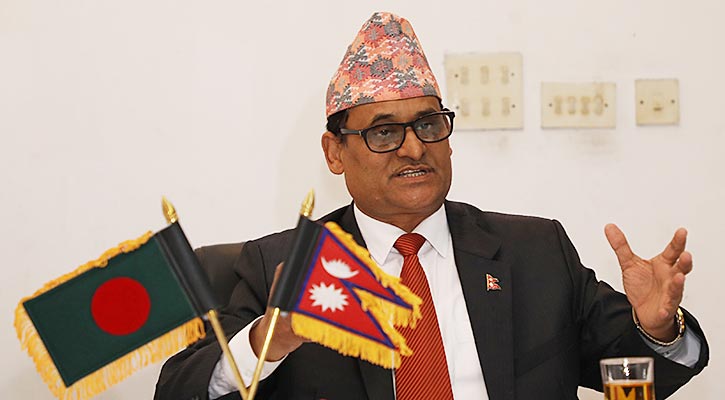 File Picture
Dhaka-Kathmandu rail connection possible: Misra
Dhaka, March 7, 2021: It is possible to launch direct train service between Dhaka and Kathmandu, said Nepal's Ambassador to Dhaka Dr. Banasidhar mixed. The name of this train service may be Dhaka-Kathmandu Maitri Express.
He said this in an interview given at the Nepal Embassy in Dhaka.
If you want to know whether it is possible to introduce direct road and rail connectivity between Bangladesh and Nepal, the Ambassador of Nepal Dr. Banasidhar Mishra said there is direct plane communication between the two countries. Now road and rail communication is also possible. There is a railway link from Dhaka to Panchagarh. There may be a rail route from Panchagarh to Banglabandha. And that is possible. It is also very easy to go to Nepal from there. Because the distance between the borders of the two countries is only 36 kilometers from there. This route provides direct train service between Dhaka and Kathmandu.
He said, if Dhaka-Kolkata Maitri Express can be, then why Dhaka-Kathmandu Express is not possible? This is possible in the next decade.
Asked about the details of launching a direct train service, the Nepalese ambassador said there were no more freight trains on the Jamuna bridge. That is why another railway bridge is being built over the river Jamuna. Then freight trains and passengers can easily go to Nepal by train over that bridge.
Asked how there could be more connectivity opportunities between Bangladesh and Nepal, the Nepalese ambassador said there were opportunities for rail connectivity to Nepal from Chittagong and Mongla ports. The fertilizer that went to Nepal from Bangladesh recently came to Chittagong from China. Then it was taken in a small ship from Chittagong to Nawapara in Jessore. From there it went to Nepal via India.
He said the Biral-Radhikapur rail route and the Rohanpur-Singabad rail route could easily be connected to Nepal. Biratnagar in Nepal is only 260 km from Rohanpur. This could be a very promising route.
Asked if Bangladeshi patients could take any opportunity for treatment in Nepal, the Nepalese ambassador and former state minister for health said there were opportunities for low-cost eye treatment in Nepal's border towns. Contract lenses can be installed for only two thousand rupees. Indian citizens take advantage of this treatment. Citizens of Bangladesh, especially people in the district towns of North Bengal in Bangladesh can also take this opportunity for treatment.