Travel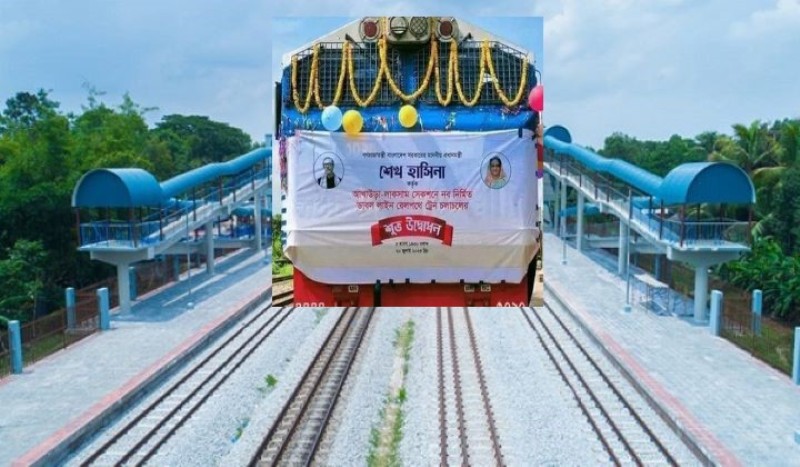 PID
Double line: Travel from Dhaka to Chittagong in train in four hours
Dhaka, July 20: Prime Minister Sheikh Hasina has inaugurated the dual gauge double line of Dhaka-Chittagong railway from Akhaura in Brahmanbaria to Laksam in Comilla. As a result, there is no single line on the Dhaka-Chittagong railway. It used to take 5 and a half to 6 hours before to go on this 321 km long route but now it will take 4 hours. Currently 23 trains run daily on this main railway line of the country. However, since it has been upgraded to a double line, 72 trains will be able to run from now.
Trains can run at a speed of 100 to 110 km on this new line. And by increasing from 60 km the meter gauge train will be able to run at 80 km. Mahanagar and Chattla Express, which used to take 6 and a half hours earlier, will now be able to travel in 5 hours, reduced by one and a half hours. As a result, along with reducing the train journey, the opportunity to travel multiple times with one train has also been created. Suvarna and Sonar Bangla Express currently provide non-stop services on the Dhaka-Chittagong route. The journey of the two trains takes one and a half hours. It will be able to move in less than 4 to 4 and a half hours.
According to the project information, in 2014, the project was taken up at a cost of 6 thousand 504 crores for the construction of 72 km double line railway up to Akhaura-Laksam. ADB has given a loan of about 5 thousand 477 crores for this project.
The work was scheduled to be completed by June 2020 at the latest. But due to the obstruction of the Indian Border Guard Force BSF, the work of the project was stopped at different times a total of 5 times. Later the period was extended till June 2023.
However, despite the increase in time, the project cost is reduced by Tk 5,583 crore in the revised DPP (RDPP). According to that, 921 crore rupees are going to decrease according to the project officials.
Regarding the increase in train traffic on the Dhaka-Chittagong route, project director Md. Subaktgin said that since the entire 321 km from Dhaka-Chittagong has been upgraded to two lanes, it will be possible to run 72 pairs of trains from 36 pairs. No train crossing will be required if two lines are opened. As a result, the time and cost of transporting passengers and goods will be reduced by increasing the speed of trains. Railways will also benefit.
According to railway sources, 124 km of Dhaka-Chittagong railway had a double line during the British era. And in February 2016, 64 km double line from Tongi to Bhairabazar was launched.