Travel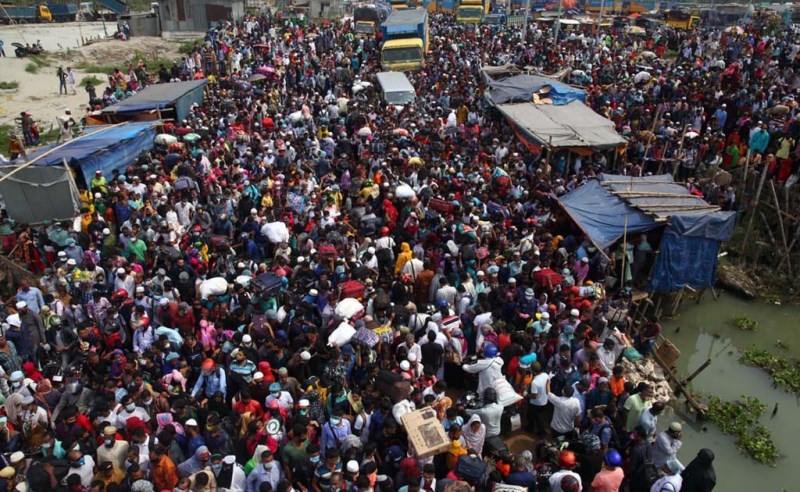 Collected
Ferry services stopped during daytime
Dhaka, May 8: To prevent the spread of coronavirus, the BIWTC has stalled operation of ferries during the day at Paturia and Mawa ferry ghats from Saturday (May 8) as per government directives. This information was given by BIWTC on Friday (May 7) night.
According to the BIWTC, ferries will only operate at night for freight crossings.
Due to the closure of public transport on Eid, people are relying on the ferry to return home ahead of Eid. As Friday is a holiday, this trend was seen several times more. The picture of people on the ferry has spread panic throughout the day. Even some ferries did not have space for people. Seeing the situation, experts fear that the coronavirus infection will increase further. In this situation BIWTC gave instructions.
Meanwhile, Eid is a week away. However, due to the coronavirus (Covid-19), launch and train services have been stopped under the direction of the government.
Although district-to-district bus service services have started, long-distance or inter-district bus services have been stalled.
But ignoring the coronavirus, people have started returning to the village from Dhaka in different ways to celebrate Eid together. The people of the south are using Shimulia Ghat in this case. They are travelling from Dhaka to Shimulia Ghat in various ways, including microbus, and from there to Banglabazar in Shibchar and reaching the destination in the same way from that ghat. However, there is no limit to their suffering.
Ferry terminal sources said that no vehicle could get on the ferry from Shimulia due to the pressure of the passengers.
According to BIWTC's Banglabazar ferry terminal, the pressure of passengers from different districts of the south has been increasing since Friday morning. Thousands of passengers have started returning home before Eid. There are 14 ferries plying the route, including Roro. However, due to the large number of passengers, the number of vehicles passing through the ferry is relatively low. The ferry was overcrowded from the parking lot to the passenger compartment.