Travel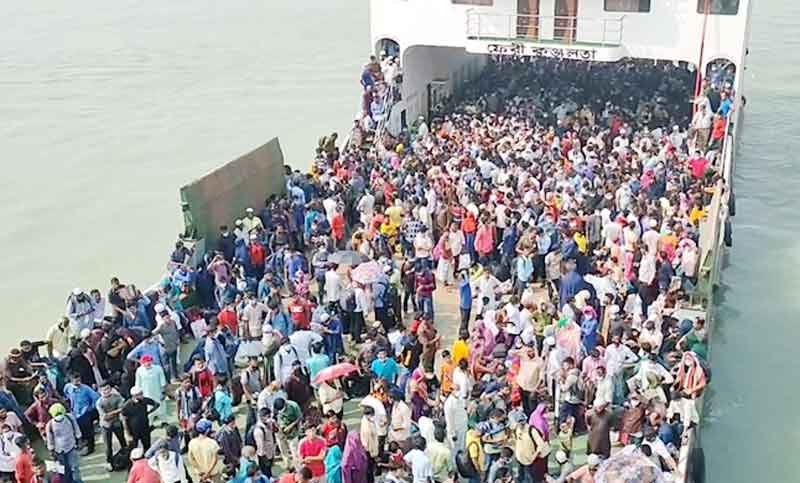 Collected
Govt. directive goes for a toss as two more ferries operate to contain homebound passengers
Dhaka, May 8: Two more ferries named Enayetpuri and Shah Paran from Shimuliaghat in Munshiganj have left for Banglabazar. A total of three ferries left Shimulia Ghat on the same day despite the ban. It is estimated that about 12,000 passengers have used the ferries.
On Saturday (May 8) at 12 noon, the ferry from Ferry Ghat No. 3 to Enayetpuri and from Ferry Ghat No. 2 to Shah Paran left for Banglabazar.
Earlier, the ferry Kunjalata left ferry ghat No. 3 at 9 am. The ferries leaving the wharf were overcrowded. No hygiene rules were followed. Shimuliaghat authorities were forced to leave the ferries due to excessive pressure of passengers from the morning. However, as these ferries left, the pressure on the wharf has reduced since noon.
Faisal Ahmed, assistant manager (commerce) at Shimulia Ghat, said three ferries were left carrying emergency goods and controlling the situation. Around 12,000 passengers, including ambulances, have crossed the river in these ferries.
Helal Uddin, in-charge of Mawa Traffic Police, said that at present there are about four hundred and fifty vehicles waiting for the crossing. Of the 14 ambulances that arrived at the wharf since morning, 13 have crossed. Thousands of passengers are currently staying at the wharf.
Incidentally, even after the decision to close the ferry from midnight, the southbound passengers were stranded at Shimulia ferry terminal in Munshiganj on Saturday. Thousands of passengers have been trying to reach the ghat area in different vehicles since dawn. Authorities are overwhelmed by the pressure of passengers.
However, the police did not allow any vehicle to enter the ghat area. Passengers arrived at the wharf after walking a few kilometers.