Travel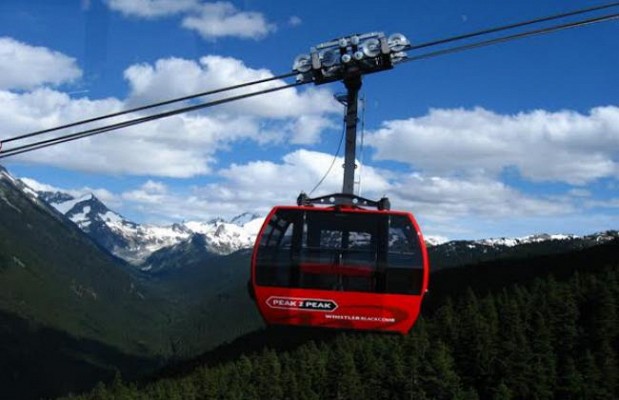 Guinness World Record for Whistler Blackcomb
New Delhi, Mar 12: Whistler Blackcomb, a major ski resort located 125 km north of Vancouver, in Canada's British Columbia, took pride in announcing the inclusion of its PEAK 2 PEAK Gondola in the 2015 Edition of the Guinness World Records Book.
PEAK 2 PEAK Gondola is a tri-cable gondola lift and this year Guinness Records recognized the gondola as the holder of the "highest cable car above ground" and "longest unsupported span between two cable car towers" records.

The PEAK 2 PEAK Gondola has been instrumental in making Whistler Blackcomb a globally recognized destination and this recent accolade is proof the lift has more than met expectations.

Since its opening in 2008, the PEAK 2 PEAK Gondola has inspired guests from across the globe to glide 436 metres above Whistler's valley floor, suspended between two towers at the record breaking distance of 3.024km apart. Not only does the lift transport guests between Whistler and BlackcombMountains in only 11 minutes, it also allows guests of all ages and levels of mobility to access a unique alpine experience.

"The PEAK 2 PEAK Gondola has been groundbreaking, not only in improving the experience of our guests, but in proving that anything is possible atWhistler Blackcomb," says Doug Forseth, Vice President of Government Relations and Special Projects at Whistler Blackcomb. "Since the idea was conceived we knew we were attempting something that had never been done before. Having Guinness recognize our efforts is proof of the feats we accomplished and just seals the fact that the PEAK 2 PEAK Gondola is a must-do experience in Whistler."

The PEAK 2 PEAK Gondola has helped Whistler Blackcomb attract over 2,000,000 sightseeing and hiking visits since the beginning of its operation in 2008.

The PEAK 2 PEAK Gondola has also been named a Canadian Signature Experience by the Canadian Tourism Commission and it has been recognized as the number one landmark in Canada by Trip Advisor's Travelers' Choice Awards.

Whistler Blackcomb, the official alpine skiing venue for the 2010 Olympic and Paralympic Winter Games, is situated in the Resort Municipality of Whistlerlocated in the Coast Mountains of British Columbia 125 kilometres (78 miles) from Vancouver, British Columbia. North America's premier four season mountain resort, Whistler and Blackcomb are two side-by-side mountains which combined offer over 200 marked runs, 8,171 acres of terrain, 16 alpine bowls, three glaciers, receives on average over 1,164 centimetres (458 inches) of snow annually, and one of the longest ski seasons in North America.

In the summer, Whistler Blackcomb offers a variety of activities, including hiking and biking trails, the Whistler Mountain Bike Park, and sightseeing on the PEAK 2 PEAK Gondola.
Image: Peak2Peak, Creative Commons