Travel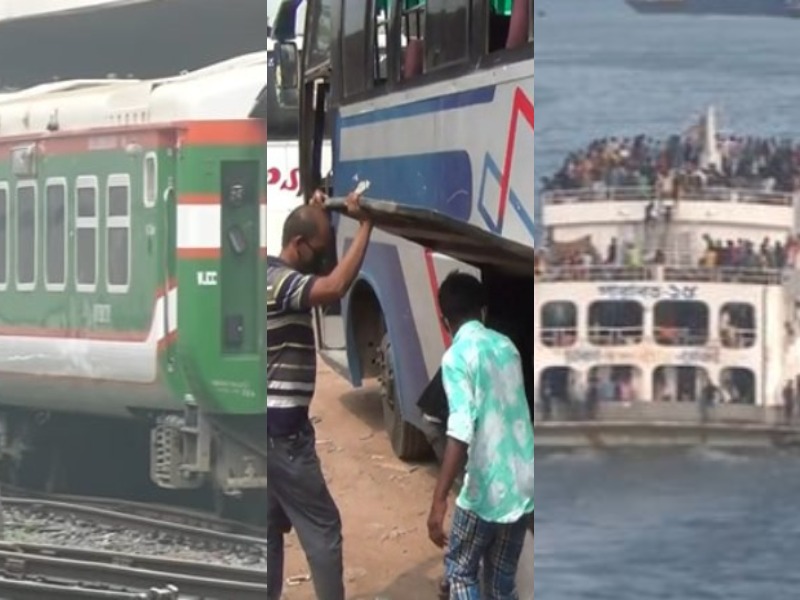 File Picture
Hike in launch fares, bus remains unchanged
Dhaka, August 9: In the ongoing coronavirus pandemic, buses, trains and launches will operate as usual with maximum capacity from next Wednesday (August 11). Although there is no increased fare for the bus, people using launch services will have to pay extra. On Sunday (August 8) afternoon, a circular signed by Deputy Secretary of the Ministry of Public Administration Rezaul Islam informed about the opening of public transport.
The Bangladesh Inland Water Transport Authority (BIWTA) has said that the circular has been issued to reduce passenger fares. However, the increased fare will remain in force for the time being. The Ministry of Shipping will decide the reduced fare during a new meeting.
According to Railway Ministry sources, 38 pairs of intercity trains and 20 pairs of mail or commuter trains will run from Kamalapur next Wednesday. Tickets will go on sale from 8 am on Monday (August 9). Passengers will be able to collect tickets online and at the counter at the previous price.
Railway Minister Nurul Islam Sujan said, "We have never increased railway fares. Even when we operated with half the passengers, they still paid the same fare. The train will run on the old fare."
He added, "Even though the trains will operate with maximum capacity, no one will be able to board the train without a mask. If anyone violates this law, the person will be fined under the Railway Act."
Secretary General of Bangladesh Road Transport Owners Association Khandaker Enayet Ullah said, "Now there will be no increase in fares. Transport will run on the previous fare."
"The government is talking about running half of the total transport. But who will count how many buses of any transport are running? Those concerned need to think about this," he added.
On the other hand, State Minister for Shipping Khalid Mahmud Chowdhury told reporters that the launch fare would be increased by 60 per cent.
"Since there are instructions to operate launch according to the hygiene rules, the fare that we have increased in compliance with the Covid-19 rules will remain in force. We are at this conclusion so far. In order to change the fares, we need to have a new meeting. Until we have it, the increased rent will remain," he said.
Asked about the increased fare at the launch, Mozammel Haque Chowdhury, secretary general of the Bangladesh Passengers Welfare Association, said, "Because the rent has been fixed leaving 50 percent seats vacant. Now the illegal cannot be legalized."