Travel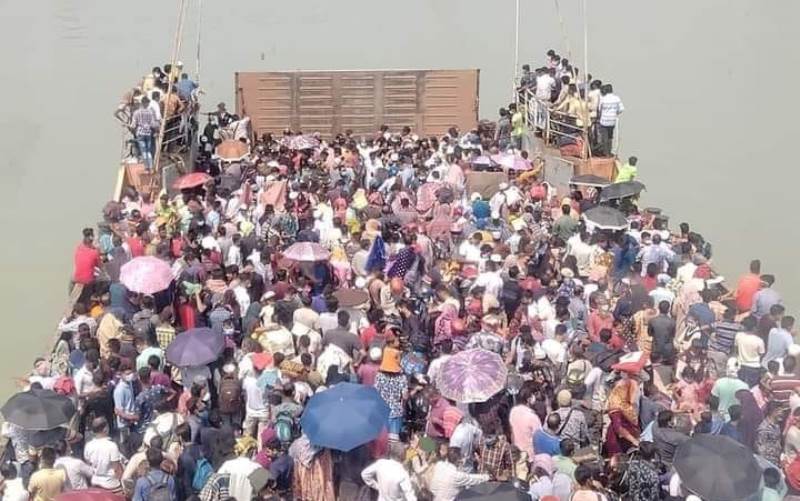 Collected
Homebound passengers crowd Daulatdia ferry ghat
Dhaka, May 7: Although there are still a few days left for Eid, the pressure of homebound people and small vehicles has increased at the Daulatdia ferry terminal in Rajbari. On Friday (May 7) morning, a huge crowd of passengers could be seen at the Daulatdia ferry terminal.
At that time, every ferry leaving Paturia for Daulatdia Ghat was crowded with private and rented small cars, motorcycles and passengers. But hygiene was not being obeyed. No mask was seen on the face of many.
Meanwhile, public transport has started operating inside the district, but to avoid suffering, passengers from far and wide are going to their destinations in various vehicles including microbuses, private cars, Mahindra, autorickshaws and motorcycles.
Besides, the authorities said that six small ferries would ply on the Daulatdia-Paturia route during the day, but more than 10 ferries were plying on the river on Friday.
Homebound passengers Asma Khatun, Ripon Mollah, Naeem Khan and many others said that they are going home to celebrate Eid with their loved ones even though they know there is a risk. But there is a lot of suffering on the way. I have to get on the bus and get off at the last border of the district. You have to pay extra rent. They also said that many people are personally renting cars with extra money and going to the destination. Passengers are being carried in each seat there. On the contrary, they believe that long-distance buses would reduce suffering as well as improve health.
BIWTC Daulatdia Ghat Assistant Manager Md. Khorshed Alam said passengers and vehicles are being crossed on this route by six ferries. Today, the pressure of small vehicles and roundabouts has increased.
He added that the number of ferries will also increase if the pressure of vehicles and passengers increases on Eid. For this, all the 16 ferries of the route have been kept ready.