Travel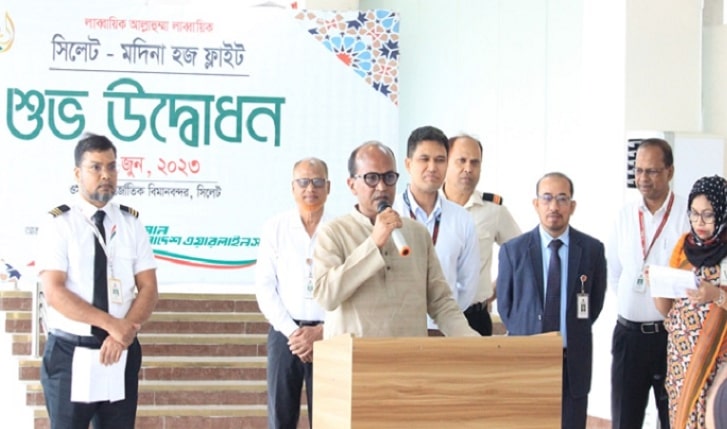 PID
Inauguration of Hajj flight from Sylhet
Dhaka, June 3: Biman Bangladesh Airlines has started operating dedicated Hajj flights from Sylhet to facilitate the pilgrims of Sylhet region. Flight BG 3431 departed from Sylhet Osmani International Airport to Madinah.
The flight carrying 346 pilgrims left on Saturday (June 3) at 11:54 am and will reach Medina at 4:10 pm local time. Biman will operate five dedicated Hajj flights on Sylhet-Jeddah route and one dedicated Hajj flight on Sylhet-Madinah route this year.
On the occasion of the inauguration of the dedicated Hajj flight from Sylhet on Saturday morning, local journalists including representatives of Biman, Civil Aviation, Hub and Atab were present along with Hajj pilgrims.
The guests exchanged greetings with the pilgrims in the holding lounge and participated in prayers with the pilgrims wishing for the well-being of the country and nation. All concerned thanked the aviation authorities for launching dedicated flights for pilgrims from Sylhet region.
This year, one lakh 22 thousand 221 Bangladeshis will go to the holy land of Saudi Arabia to perform Hajj. Out of this, the aircraft will transport 61 thousand 111 pilgrims. Biman will operate a total of 162 Hajj flights in pre-Hajj. This year, the Boeing 787-9 Dreamliner is being used in addition to the airline's own Boeing 777-300ER for Hajjatri transport. Biman's pre-Hajj flights will end on June 22.
Biman transported 62 thousand 796 pilgrims in 2018, 66 thousand 286 pilgrims in 2019 and 30 thousand 361 pilgrims in 2022. In 2020 and 2021, Hajj from Bangladesh was suspended due to the Covid-19 pandemic.