Travel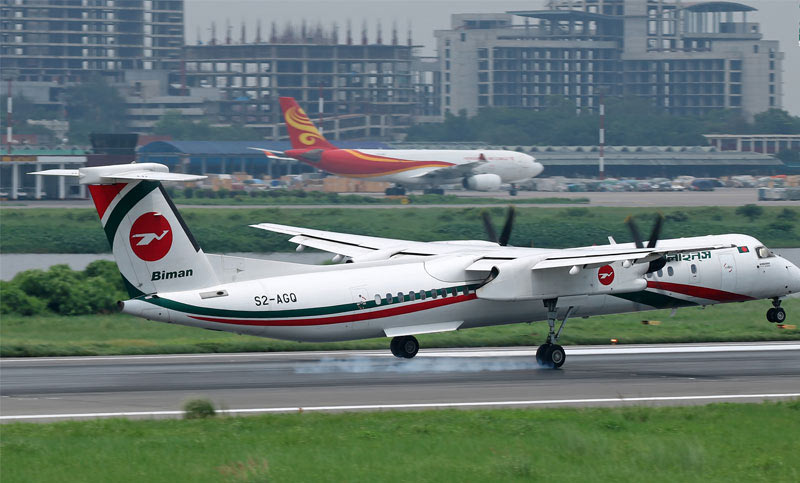 Collected
New Dash 8-400 aircraft Shwetbalaka reaches Dhaka
Dhaka, March 6: The much-awaited new Dash 8-400 aircraft named 'Shwetbalaka' reached Dhaka's Shahjalal International Airport from renowned Canadian aircraft manufacturer de Havilland. After landing, the aircraft was greeted with a water cannon salute.
One such scene unfolded at Hazrat Shahjalal International Airport on Friday (March 5) at 5:45 pm. With this, another new Dash 8-400 aircraft has been added to the fleet of Biman Bangladesh Airlines.
State Minister for Civil Aviation and Tourism Md. Mahbub Ali MP received the new aircraft from Hazrat Shahjalal International Airport. The aircraft was greeted with a water cannon salute as part of the Aviation Fanfair.
In an immediate response after receiving the aircraft, Ali said the country is on the development highway today under the leadership of Prime Minister Sheikh Hasina. Development of all sectors of the country is visible today. Biman Bangladesh Airlines is also being set up under the direction and supervision of the Prime Minister. The fleet has been modernized and the quality of service has been enhanced. As a part of it, the new aircraft 'Shwetbalaka' has arrived in the country today.
He further said, "We are happy that the aircraft arrived in the country this March before the birth centenary celebrations of Father of the Nation Bangabandhu Sheikh Mujibur Rahman. We hope the Prime Minister will officially inaugurate 'Akash Tari' and 'Shwetbalaka' on March 14."
The new aircraft has been named by the Prime Minister of Bangladesh Sheikh Hasina.
The aircraft has 74 seats with all the modern facilities. The addition of the aircraft to the fleet will increase the flight frequency of the aircraft on its inbound and short-haul routes. As a result, the airline will be able to provide better services to its passengers on these routes.
Equipped with eco-friendly and state-of-the-art facilities, the aircraft is equipped with HEPA filter technology, which completely purifies the air inside the aircraft by destroying bacteria, viruses and other germs in just 4 minutes. Makes passengers more refreshed and safer.
The aircraft will also have more legspace, LED lighting and wide windows to make travel more comfortable and enjoyable.