Travel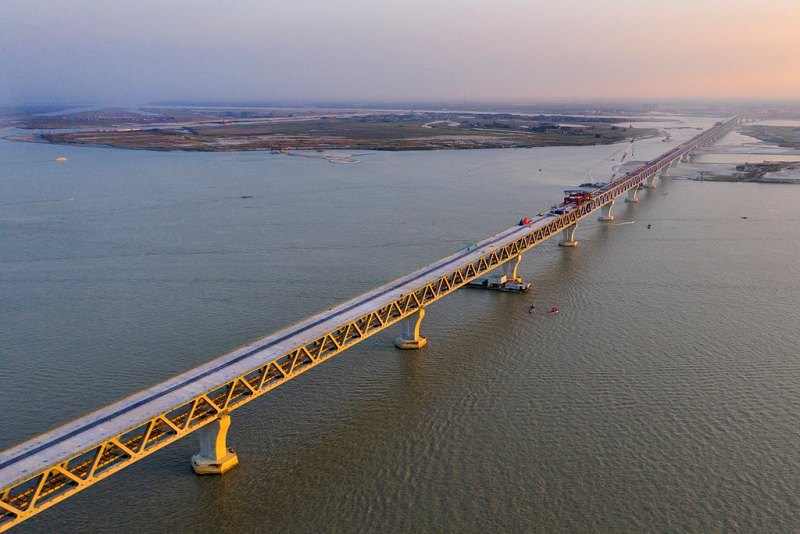 Pinu Rahman/Wikipedia
Padma Bridge will be open to traffic in June next year: Quader
Dhaka, April 22: Road Transport and Bridges Minister and Awami League General Secretary Obaidul Quader has said that the Padma Bridge will be opened for traffic in June 2022.
He said the progress of the main Padma bridge is 93 per cent and river management work is 82 per cent, the overall progress of the Padma Multipurpose Bridge project is 85 per cent and by June 2022, the Padma bridge will be open for traffic.
The minister made the remarks while exchanging views with Khulna Road Zone, BRTA and BRTC officials in a video conference from his residence on Wednesday (April 21st).
Addressing the field level engineers, the Minister said, "Ongoing work during monsoon season as well as tender work for new projects should be completed as soon as possible. Khulna-Mongla road is very important. It is very important to upgrade this road to four lanes due to Mongla port. We need to take effective measures to get started."
Addressing the engineers on the need for a development-friendly road communication infrastructure, he said, "If honesty, dedication and patriotism are combined with your skills and talents in building the country, better coordination will take place, waste will be reduced and Sheikh Hasina's government will achieve development goals."
Secretary of Road Transport and Highways Department Md. Nazrul Islam, Chief Engineer of Roads and Highways Department Md. Abdus Sabur, Additional Chief Engineer Monir Hossain Pathan, Additional Chief Engineer of Roads and Highways Department Khulna Zone Syed Aslam Ali, Supervising Engineer Mohammad Moniruzzaman were also present at the meeting. , BRTA and BRTC officials, including executive engineers of various road departments.