Travel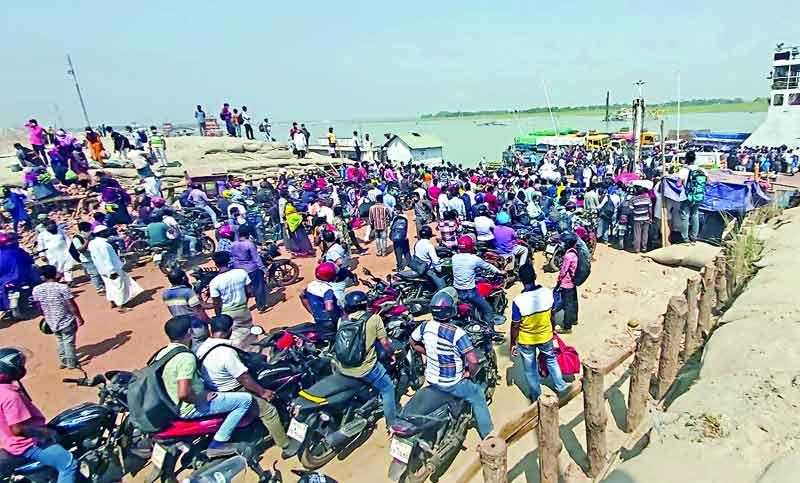 Collected
People crowd at Banglabazar ferry ghat
Dhaka, May 10: Due to government ban, no ferry left Banglabazar Ghat in Madaripur for Shimulia in Munshiganj after 11am on Sunday. As a result, emergency vehicles and passengers heading to Dhaka were crowded at Banglabazar Ghat. As soon as the three ferries reached the Banglabazar Ghat from Shimulia at around 8 pm, the passengers stumbled. The three ferries left for Shimulia with about 3,000 passengers and hundreds of vehicles.
It is learned that even after the deployment of BGB, homeless people flocked to Shimulia Ghat in Munshiganj on Sunday morning. Despite the BGB's obstruction, the passengers were forced to board the ferry. The ferry Shahparan left Shimulia Ghat at around 10 am with about 2,000 passengers.
Earlier, the ferry brought 11 ambulances and some passengers to Faridpur. The two ferries left Banglabazar Ghat for Shimulia again. However, no ferry left the Banglabazar Ghat after that.
As the ferry did not run all day, a crowd of people gathered at Banglabazar Ghat. Hundreds of emergency vehicles, including hearses and ambulances, are waiting for the ferry to cross. Later at 8 pm, three ferries named Shah Enayetpuri, Shah Faridpuri and BIWTC Comilla landed at the wharf. As soon as the ferries arrived at the wharf, thousands of passengers boarded the ferry in addition to the emergency transport.