Travel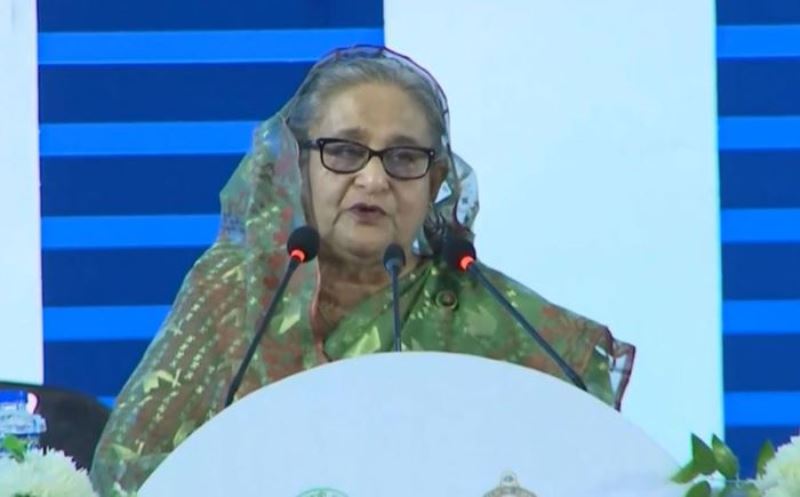 Photo: Collected
PM opens new railway route for southern region
Dhaka, Oct 10: Prime Minister Sheikh Hasina inaugurated the new train service on the Dhaka-Bhanga route via Padma Bridge. On Tuesday, October 10, the Prime Minister inaugurated the new railway line in a peaceful gathering at Mawa, Munshiganj. Through this, a new railway door has been opened in the southern region. As a result of which it will be easy to bring and take products, besides the expansion of trade and industry which will contribute to the overall economy of the country.
Earlier, she left for Mawa from Ganobhaban by road at 10:10 am. The Prime Minister reached Mawa at 10:58 am. She was accompanied by her younger sister Sheikh Rehana.
According to official details, Prime Minister Sheikh Hasina will cross Padma bridge from Mawa railway station to Faridpur Bhanga by special train. It also said that Bangladesh Railway is constructing a new rail track of 172 km from Dhaka to Jessore under the Padma Setu Rail Link Project. Its 82 km section connecting Dhaka and Bhanga will be opened today and the remaining section connecting Jessore is likely to open in June next year.
One year and two months after the inauguration of the landmark Padma Bridge in June last year, the Dhaka-Bhanga railway service is going to be inaugurated through the Padma Bridge. On September 7, the special train trial was completed on the Dhaka-Bhanga route through the Padma Bridge.
Earlier, Bangladesh Railways ran a trial train from Bhanga to Mawa end of Padma Bridge on April 4 after the completion of stoneless railway line on Padma Bridge.
On October 14 last year, Prime Minister Sheikh Hasina inaugurated the construction of a rail link between Dhaka and Jessore under the 'Padma Setu Rail Link Construction Project'. The cost of the project has been estimated at Tk 39,246.80 crore. Exim Bank of China is giving a loan of Tk 21,036.70 crore.
After the completion of the project, the access of the capital city to the central and south-western regions of the country will be further enhanced through the Rail Link Padma Bridge – which will connect the new areas of Munshiganj, Shariatpur, Madaripur and Narail districts. The project will connect Dhaka-Jesore-Khulna with a short route of 212.05 km.
It will establish another sub-route of the Trans-Asian Railway Network in Bangladesh and introduce national, regional and international freight and BG container train services. This route will be free from speed and load restrictions for carrying containers.