Travel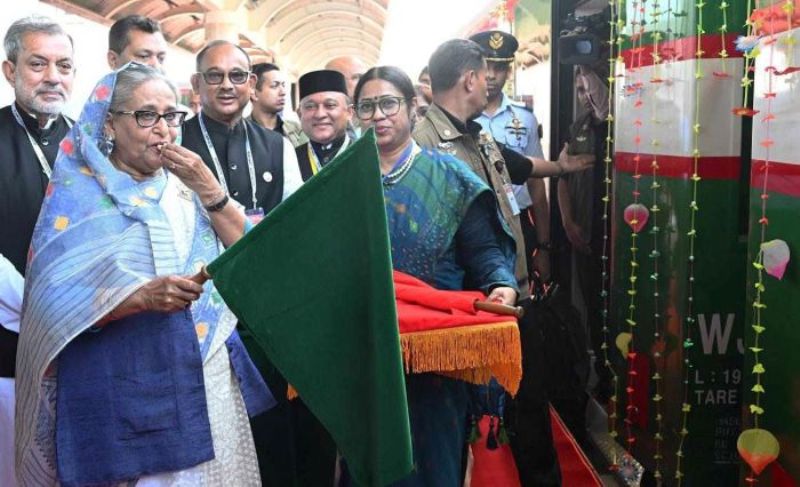 PID
Prime Minister blows whistle, inaugurates train service to Cox's Bazar
Own Correspondent, Dhaka, 11 November 2023: Cox's Bazar, the longest beach city in the world, can be reached from different parts of the country by road and air, but a new communication system has been added from today. Cox's Bazar has been added as the 48th district of Bangladesh Railway Network.
Prime Minister Sheikh Hasina inaugurated the railway station and the Chittagong-Cox's Bazar railway in this sea city. After the inauguration at 1 PM, the Prime Minister collected tickets from the ticket counter of the iconic railway station at 1:21 PM. After that, a train left the station for Ramu at 1:27 PM by waving the green flag and blowing the whistle of the Prime Minister. Sheikh Hasina will address the rally after reaching Ramu.
Earlier in the opening ceremony, Prime Minister Sheikh Hasina said, "Cox's Bazar has been connected with the railway today. I am really happy to be present at the inauguration ceremony of the 102 km railway line from Dohazari to Cox's Bazar. I made a promise, I kept it. Today is a day of pride for the people of Bangladesh."
According to Bangladesh Railway sources, the Dohazari-Ramu-Ghumdhum railway line construction project was approved on July 6, 2010 for the construction of the railway from Dohazari to Ramu to Cox's Bazar and from Ramu to Ghumdhum near Myanmar. Prime Minister Sheikh Hasina laid the foundation stone of this single line dual gauge railway construction project on April 3, 2011 as a mega project.
Later, the Chinese company CRC (China Railway Engineering Corporation) and domestic company Tama Construction got the construction work in these two lots of Dohazari-Chakaria and Chakaria-Cox's Bazar (Lot-1 and Lot-2) in the tender hall. After giving the work order, the work of this mega project started in 2018. The project was inaugurated 13 years after approval.
Tk 18 thousand 34 crore 47 lakh have been spent on the construction of this 102 km railway line. It is financed by the Asian Development Bank (ADB) and the Government of Bangladesh.