Travel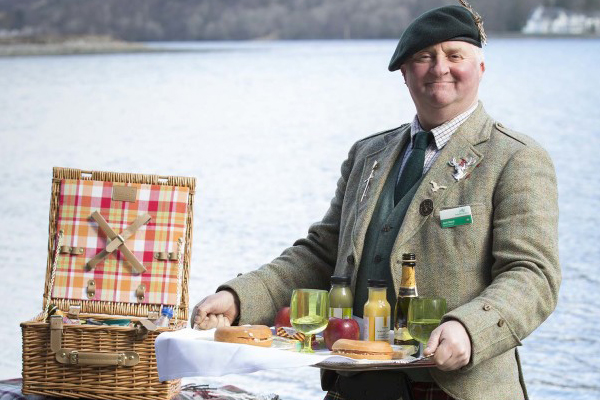 Scotland: Let the butler do it
Edinburgh, Apr 7: VisitScotland and Forest Holidays launch a new holiday experience – Scotland's first Picnic Butler
Visitors to Scotland can now click their fingers and enjoy the finest Scottish fare, courtesy of Scotland's first ever Picnic Butler.

Launched by VisitScotland and Forest Holidays in March, the initiative will serve up a unique culinary experience for holidays-makers to Scotland during the Year of Food and Drink.

The service will be exclusively offered by Forest Holidays at their two Scottish locations at Ardgartan in Argyll, and Strathyre in Perthshire.

As well as taking guests to extra special places at each location to experience a picnic of local produce, the Picnic Butler is an experienced forest ranger and will offer guidance on foraging, making fires, spotting wildlife and outdoor survival.

Guests at Forest Holidays' two Scottish locations will be able to choose from a range of Picnic Butler experiences tailored towards couples or families.

Each of the Forest Holidays locations will source produce from local suppliers for the picnic hampers, including Scottish smoked salmon and Caboc cream cheese bagels, Scottish crisps, Arran cheese and Arran oat cakes, seasonal fruits, Tunnocks tea cakes and caramel logs, Heather Honey tablet, Irn Bru, Scottish spring water and a glass of sparkling wine for romantic walks.

Jack Black, Scotland's only Picnic Butler, said:
"Having travelled the world exploring and visiting some the highest mountains and greatest wilds, it's only fitting that I am now taking on the greatest challenge of my career – being Scotland's only Picnic Butler. Scotland's incredible landscape and the natural larder go hand-in-hand, and the two Forest Holidays locations offer excellent opportunities for picnics and discovering wildlife. It's a pleasure for me to be a part of people's holidays, creating moments they will treasure forever."

Mike Cantlay, VisitScotland Chairman, said: "I'm sure the Picnic Butler will be a popular addition to Forest Holiday's tourism offering during the Year of Food and Drink 2015. Food and drink is an integral part of the visitor experience, couple that with the famous Scottish hospitality and you have a recipe for success.

"This year is all about celebrating our exceptional natural larder, the role food and drink plays in shaping our economic success and the people, landscapes and culture that make our food heritage so unique."

Yasmin Sethna, Spokeswomen for Forest Holidays, said: "Forest Holidays are delighted to be involved with this exciting new Scottish culinary experience. Our superb locations on beautiful Forestry Commission land in Ardgartan and Strathyre make the perfect setting to enjoy both this special picnic and our very own Picnic Butler\'s exceptional local knowledge"

The Picnic Butler is available at Forest Holidays' two Scotland locations and can be booked directly through the websitewww.forestholidays.co.uk as a pre-bookable extra when booking a holiday. It can also be booked on-site at both of the locations for resident guests.