Travel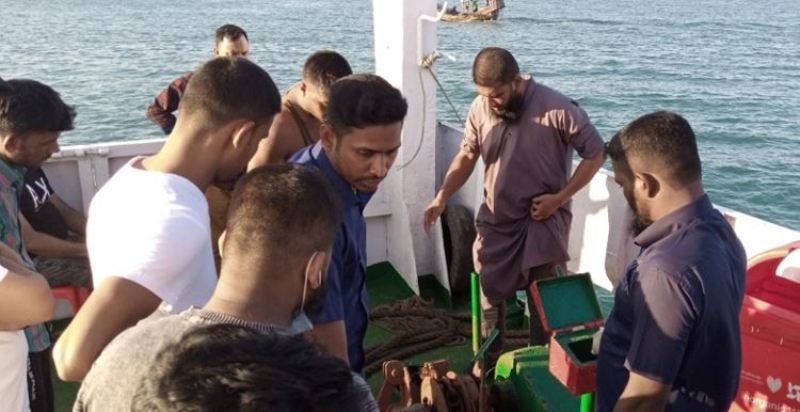 Collected
St Martin's Island: Hundreds of tourists avert disaster by dialling 999
Dhaka, December 21: Several tourists averted a major disaster by dialling 999 after a ship developed a glitch and stopped in the middle of the river while returing back to Cox Bazar's Teknaf from St. Martins Island.
Tourist ship 'ST Bhasa Shahid Salam' developed the glitched and stopped in the middle of the sea with more than a hundred tourists on board.
After launching the ship, it left the wharf and after a short distance, the engine broke down and started floating. Police, navy and coast guard were able to bring the ship ashore after receiving a call on 999. The incident took place in the Bay of Bengal on Sunday (December 20) at around 3.15 pm.
The passengers complained that the ship was kept afloat for about three hours in the name of fixing the faulty engine. Seeing the ship slowly drifting owards Myanmar, some of the panicked tourists called the National Service 999 for help. The ship was later brought ashore in the evening by a joint effort of the St. Martin's Coast Guard, police and the Navy.
Mohammad Shahin, president of the Teknaf Municipal Chhatra League, who was visiting the island with his family, said the ship 'ST Bhasa Shahid Salam' sailed on the Teknaf-St Martin's waterway with more than 250 tourists on Sunday. Hundreds of tourists stayed for the night and the rest of the passengers on their way back to Teknaf fell into misery.
Abdur Rahman, who went on a St. Martin's Day tour with his family from Gazipur in Dhaka, said he had an unimaginable experience with a cruise ship in St. Martin's. He said, "I was floating in the Bay of Bengal for three hours when the engine broke down on the way back from the island. Without the help of 999, we might have crossed the border into Myanmar and been arrested by the country's border guards." He said that in order to develop the tourism industry, it is necessary to stop the movement of such ships on the St. Martin's waterway.
Mohammad Shahed, the residential supervisor (technician) of the ship 'ST Bhasa Shaheed Salam', confirmed the information and said, he tried to fix the machine but failed.
Nur Ahmed, chairman of St. Martin's Union Parishad, said: "After learning of the incident, the navy, police and coast guard jointly arranged for the return of tourists from the floating ship. Arrangements have been made for those who need to leave the emergency ship to reach Teknaf by speedboat. The issue of housing for families including women and children is being taken care of."