Travel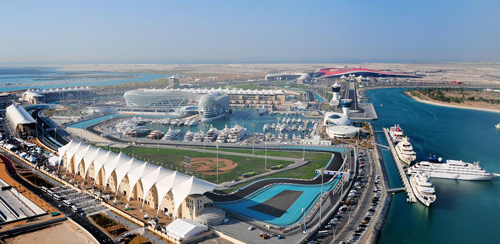 TCA Abu Dhabi unveils action-packed agenda for summer season
Abu Dhabi, Apr 19: Abu Dhabi Tourism & Culture Authority (TCA Abu Dhabi) on Tuesday unveiled the line-up for this year's events and shows for Abu Dhabi Summer Season, running emirate-wide from July 7 to Sept 11.
The programme of leading international theatre shows, comedy acts, concerts, circus performances, an illusionist and activation zones will be held at venues across Abu Dhabi city, Al Ain and the Western Region and span Eid Al Fitr, the school holidays and Indian Independence Day. This was announced at a press conference at Vox Cinemas, Nation Galleria Mall in Abu Dhabi.
Sultan Al Dhaheri, Acting Executive Director Tourism, TCA Abu Dhabi, said: "We are hugely encouraged by the number of visitors who came to the emirate to experience Abu Dhabi Summer Season last year, not only from across the GCC but from around the world. This annual event is one that reaps very positive rewards in our visitor numbers during the traditionally quieter summer period as we move towards becoming a year-round destination."
"This year ispacked with thrilling international theatre and stage shows, leading comedy acts, music concerts, an illusionist and some amazing children's shows, combined with a wide range of activities and extended activations, each lasting for a month at a time. We will also celebrate Indian Independence Day with fabulous concerts. Superb summer offers and promotions across Abu Dhabi's hotels, mallsand attractions will again feature across the Summer Season period."
Summer Season 2015 witnessed a 21% increase in guest arrivals into the emirate compared to 2014with 951,979 guests checking into Abu Dhabi's 167 hotels and hotel apartments during the period.
The largest increase in visitor numbers was from India rising nearly 30 per cent, with the Americas up 24.4 per cent, visitors from Europe up 18 per cent and visitors from the GCC - not including the UAE - up almost 10 per cent.
Al Dhaheri added: "Abu Dhabi Tourism & Culture Authority has teamed up with major partners for this year's season who are contributing and supporting with events, offers and promotions. We are delighted to welcome back Flash Entertainment, Alchemy Project, MBC and Yak Events, who all contributed to the success of the 2015 season. We are also thrilled to have Zeyara Events and Extra Cake join us for the first time for a Summer Season that is fun for all.We are also thrilled to welcome Yas Island as the Presenting Sponsor of the new season."
Abu Dhabi Summer Season will also offer promotions and offers across the emirate's hotels, malls and attractions to encourage visitors and residents to spend their time in Abu Dhabi. There will also be a weekly prize draw for shoppers to win a car.
"The Abu Dhabi Summer Season is synonymous with exciting and lively entertainment and provides a unique escape from rising temperatures. Yas Island has become a mature destination with exhilarating products catering to all segments of international and local markets. With our new rides recently opening and many world-class events and experiences we are now in a position to be one of the leading leisure and entertainment destinations in the region. It made perfect sense for Yas Island to be Presenting Partner with TCA Abu Dhabi for what is poised to be the emirate's best Summer Season to date," said Mohammed Al Zaabi, CEO of Miral Asset Management.
He added: "Given this partnership, local and international visitors coming to Yas Island can 'SAY YAS' this summer and expect a full programme of refreshing and cool activities in our many indoor air-conditioned and family friendly environments. This summer campaign will further complement what is a diverse and growing list of exhilarating Yas Island experiences to make for a truly unforgettable summer of coolness for everyone. Working with TCA Abu Dhabi we look forward to welcoming everyone from across the UAE and region to share with them all that the island has to offer."
Shows confirmed for the summer include children's favourite Alvin & the Chipmunks – the Musical; Hello Kitty; the Dinosaur Show; an Eid Al Fitr celebration concert headlined by Lebanese superstar Myriam Fares; three 'Bollywood in the Capital' shows including Farhan Live! with Vishal &Shekhar for one show only and the dynamic trio of Shankar, Ehsaan and Loy. The Arabic Comedy Festivals starring Emirati Bin Baz and the Saudi trio - Fadi Al Shehri, Ibrahim Saleh and Ibrahim Khairallah will kick off day one of the two-day festival. Day two will feature Emirati host Taim Al Falasi and supported by Darine Al Bayed, RajaeQawas and Fahad Al Butairi.
There will also be separate comedy shows starring the Wayan Brothers and Tariq Al Ali, and an Indian comedy show starring Kapil Sharma.
British illusionist Jamie Raven will be making his stage debut in the Middle East while Shaun the Sheep, SpongeBob SquarePants and Dora the Explorer will be entertaining children across the emirate.
Sia S. Far, Managing Director, Alchemy Project, said: "The amazing vision of TCA Abu Dhabi and participation of leading entertainment agencies in the region certainly extends the boundaries of entertainment and tourism in Abu Dhabi and further positions the emirate as a capital of entertainment."
New to this year's Summer Season will be Fun Nation, which guarantees a month of family fun at the du Forum on Yas Island. Flash Entertainment, in association with MBC Group, will host gaming, cooking, sports and fashion all under one roof from July 14 to August 6, with a host of character performances and interactive activities.
Alexis Dijksterhuis, Vice President Strategic Planning and New Business, Flash Entertainment, said: "Abu Dhabi Summer Season infuses entertainment and vitality into the capital. In our fourth year of working with TCA Abu Dhabi we strive to exceed the variety of entertainment and bring the best to this summer- long celebration. Our efforts have produced a great line-up of Arab comedians, Indian artists and a world-renowned illusionist. The line-up of this year's Abu Dhabi Summer Season will further cement the capital's status as an entertainment hub."
Another new event called The District will be held for a month at the du Forum aimed at those aged between 14 and 22 years old. Starting on August 11 the District will offer a range of activities seven days a week and offer support and guidance in a variety of areas including innovation, entertainment, technology, fashion, digital media, health, science, nutrition and sustainability.
Each weekend will feature an additional showcase of guests, both local and international, conducting workshops, classes and informal discussions.
The official hotel sponsor for Abu Dhabi Summer Season is UAE-based Jannah Hotels & Resorts and Etihad Airways is the official airline.Majid TV, the network that features the adventurous and optimistic 12-year-old Emirati boy who inspires children to make the best of their abilities, will help promote the summer festivities across the UAE as the official TV partner.