Travel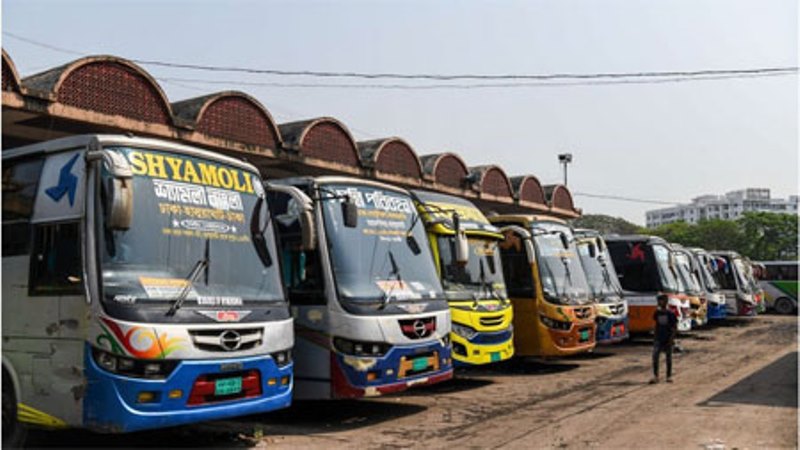 Collected
Tickets are on sale at the Gabtoli counter, long-distance buses to leave at night
Dhaka, July 14: After remaining suspended for more that 45 days, long-distance buses will run again from tonight. The ticket sale has started at the counters in Dhaka's Gabtoli.
While the resumption of long-distance bus sevice has brought in a sigh of relief for many, travellers will have to pay double the fare to avil service as buses have been instructed to operate with half its capacity, as a measure to stall the spread of the deadly coronavirus disease.
The Golden Line counter of Barisal line at Gabtoli bus terminal opened at 9 am. The seller has been selling bus tickets for Wednesday night after completing some cleaning work from morning.
"Vehicles will be in full swing from Thursday. A 40-seat car will have to carry 20 passengers each. However, after booking the tickets, some buses will leave for Barisal tonight," an official at the counter said.
Wednesday night bus tickets are also being sold by Sohag Paribahan on the Cox's Bazar route. Moinuddin, who was at the counter, said some bus tickets had been sold since morning. These vehicles will leave for Cox's Bazar after 8 pm.
He said the long-distance bus services have been closed for the last one and a half months and the vehicles have been lying in different places. These buses will reach Dhaka by tomorrow morning. For this, drivers, supervisors and helpers are being contacted. The buses that are there in Dhaka, will leave tonight with passengers.
Mehedi, a counter assistant at SP Golden Paribahan on Jessore-Benapole route, said most of the tickets for the three buses had been sold out since morning, though 20 people were supposed to be on each bus. Those buses leave after 8 pm. One passenger will be taken in each seat. The rent of two seats is being taken from one person.