Travel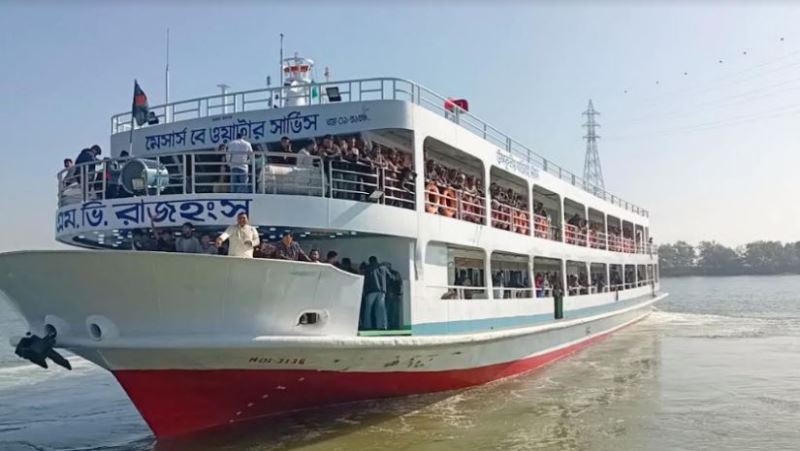 Photo: Collected
Tourist ships start operating on Teknaf-St Martin route after 10 months
Dhaka, January 14: Two tourist ships MV Parijat and MV Rajhansa left Teknaf for Saint Martin with 610 passengers. Passenger ship services were shut on that route for the last 10 months.
The two tourist ships left Teknaf's Damdamiya Jetty at around 9:30 am on Friday (January 13) bound for St. Martin. The ships reach the island around 12 noon.
Earlier, on Thursday (January 12), the administration approved the experimental operation of tourist vessels on the Teknaf-Saint Martin route for this season. The last time a tourist ship operated on this route was on March 31 last year.
Additional Deputy Commissioner Abu Sufian said that permission has been given to two ships on an experimental basis. On Friday morning, MV Parijat and MV Rajhansa left for St. Martin Island with 610 passengers. If the situation is positive for these two ships, other ships will be allowed to sail from the next day.
It is known that the tourists who came for the trip flocked to the jetty of the Teknaf Damdamiya tourist ship for tickets. Tourists expressed their anger on the way to reach Teknaf by pointing out the bad condition of the road. They said that hundreds of tourists could not travel to the island because they did not get tickets.
Tofail Ahmed, president of SQUAB, an association of ship owners, said that two ships named MB Parijat and Rajhans left Damdamiya Ghat for St. Martin on the first day after receiving the permission. From Sunday, other permitted vessels including Carey Sindabad will ply. We will try our best to provide quality service to tourists. However, since the price of everything starting from oil has increased, the ticket price has been increased a little.
Incidentally, at the beginning of the tourist season (October) due to the navigability crisis, permission was not given for the movement of tourist ships from Damdamiya Ghat in Teknaf. But there are three ships running from Cox's Bazar and Chittagong namely Karnaphuli Express, Bewan and Bar Auliya. Tourist harassment on these three ships goes beyond limits. Allegations have arisen that the concerned of these three ships conspired and did not allow the ships to sail from Teknaf using the pretext of navigational crisis.