Travel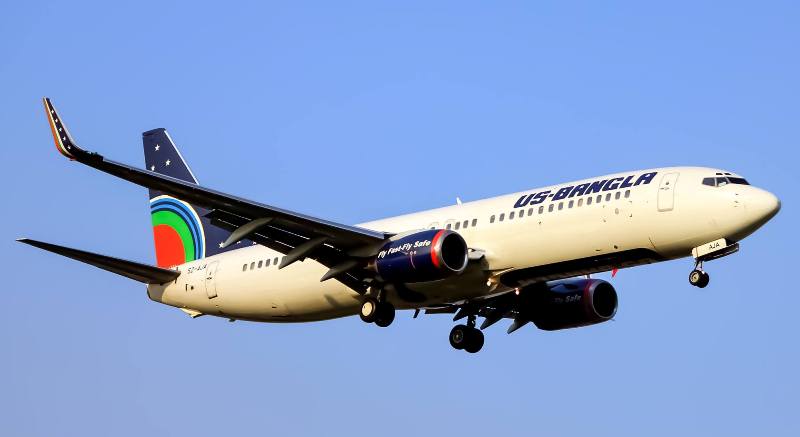 File photo/Wikimedia Commons/Md Shaifuzzaman Ayon
US-Bangla to operate 2 flights everyday on Dhaka-Kolkata route
Own Correspondent, Dhaka, July 27: US-Bangla Airlines will operate two flights a day on the Dhaka-Kolkata route from August 4 as the number of passengers and demand for tickets are increasing on this short international route.
On Tuesday (July 26) afternoon, US-Bangla Airlines General Manager (Public Relations) Md. Kamrul Islam said that at present, flight from Dhaka to Kolkata leaves at 10:10 am and departs Kolkata to Dhaka at 11:30 am, and arrives at Hazrat Shahjalal International Airport in Dhaka at 12:55 pm.
Besides, the newly added flight will take off from Dhaka to Kolkata at 6:30 pm every day from August 4 (Thursday) and depart from Kolkata to Dhaka at 7:35 pm, and it will arrive in Dhaka at 9 pm.
Two flights on the Dhaka-Kolkata route will be operated by US-Bangla Airlines with Boeing 737-800 aircraft. The US-Bangla currently has a total of 16 aircrafts, including six Boeing 737-800 and seven ATR 72-600, in its fleet. US-Banglar plans to add seven more aircrafts to its fleet this year.
The notification also said that US-Bangla Airlines has plans to operate Chittagong-Kolkata and Dhaka-Delhi routes in the future. The airliner has requested passengers to contact any US-Bangla sales point or any travel agency for ticket reservation on Dhaka-Kolkata route.