World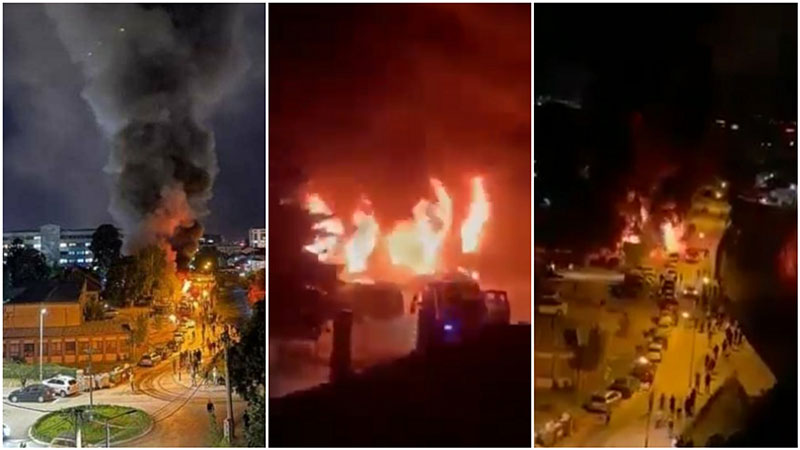 Screengrab from YouTube
14 patients killed, several hurt in Covid hospital fire in North Macedonia
Skopje, September 9: A major fire broke out in a temporary Covid hospital in North Macedonian city of Tetovo on late Wednesday, leaving at least 14 patients dead and several others injured, Associated Press (AP) reported citing local authorities.
Reuters reported that the fire had started at around 9pm local time (1900 GMT) at the hospital treating coronavirus patients in Tetovo in the northwest of the Balkan country.
Local news sources said that the modular hospital was built last year to treat the Covid-19 patients of Tetovo, a city of about 50,000 people.
Tetovo deputy fire chief Saso Trajcevski told local television that the fire had spread quickly and became huge as the hospital was modular and there was plastic.
Local officials said that several injured people had been taken to hospitals in the North Macedonian capital of Skopje, about 30 miles (45 km) to the east.
President of the Government of the Republic of North Macedonia, Zoran Zaev, who immediately headed to the scene, wrote on Twitter that an explosion had caused the fire.
"A huge tragedy occured in the Covid-19 centre in Tetovo. An explosion caused the fire. The fire was extinguished, but many lives were lost," Zoran Zaev tweeted.
"I express my deepest condolences to the families and relatives of the deceased and wish a speedy recovery to the injured," Zaev said on Twitter.
Health Minister of the southeast European country, Venko Filipche, expressed his condolences and said on Twitter that it was a very sad day for North Macedonia.
Local media quoting authorities confirmed that there was no medical officers among the victims.
AP reported that North Macedonia's government will hold an emergency meeting on Thursday over the deadly hospital fire while five prosecutors, from Skopje and Tetovo, are working on the investigation into the cause of the fire.