World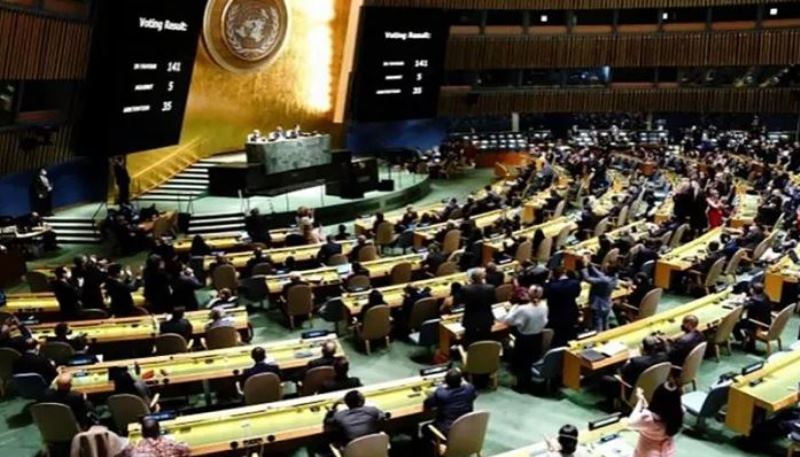 Photo: Collected
16 countries including Bangladesh abstain at UN vote on Ukraine issue
United Nations, April 6: Bangladesh, along with 16 other countries, abstained from voting on a UN Human Rights Council (UNHRC) resolution on the human rights situation in Ukraine due to Russia's aggression.
Apart from Bangladesh, Algeria, Bolivia, Cameroon, Cuba, Gabon, Honduras, India, Kazakhstan, Kyrgyzstan, Morocco, Pakistan, Senegal, South Africa, Sudan, Uzbekistan and Vietnam also abstained from voting.
China and Eritrea voted against the UNHRC resolution to extend the mandate of the Independent International Commission of Inquiry on Ukraine for another year, according to a summary of the meeting at the UN News and Media Press Center. Offered to Argentina, Belgium, Benin, Chile, Costa Rica, Ivory Coast, Czech Republic, Finland, France, Gambia, Georgia, Germany, Lithuania, Luxembourg, Malawi, Malaysia, Maldives, Mexico, Montenegro, Nepal, Paraguay, Qatar, Romania, Somalia , was adopted by a vote of 28 countries, including Ukraine, the United Arab Emirates, the United Kingdom and the United States.
The Human Rights Council resolution called on Russia to "immediately end its human rights violations and abuses in Ukraine and violations of international humanitarian law". It also called for the strict observance of all human rights and fundamental freedoms and the protection of civilians and critical civilian infrastructure in Ukraine.