World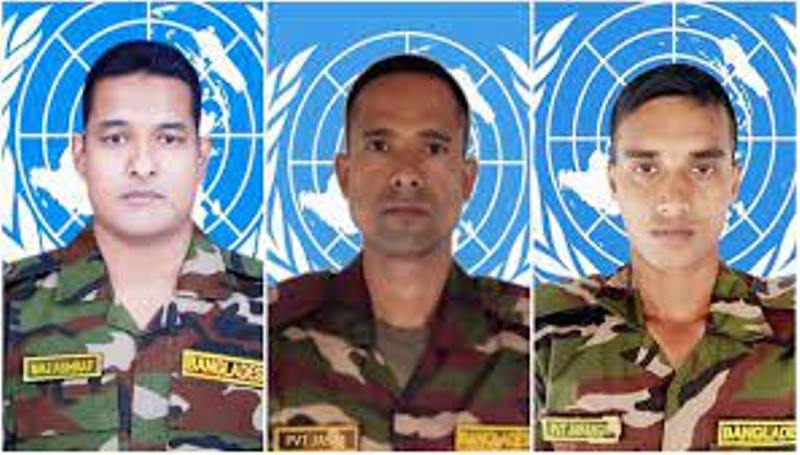 Photo: Collected
3 Bangladeshi peacekeepers killed in explosion in Central African Republic
Bangui, CAR, Oct 5: Three Bangladeshi peacekeepers were killed and one was injured when an Improvised Explosive Device (IED) exploded in a vehicle belonging to the peacekeepers in the Central African Republic during a UN peacekeeping mission.
The three peacekeepers killed are Soldier Md. Jasim Uddin (31), Md. Jahangir Alam (26) and Soldier Sharif Hossain (26). Besides, patrol commander Major Ashraful Haque was injured.
A press release from Inter-Services Public Relations (ISPR) said that the incident took place on Monday (October 3) at 8:35 pm local time (October 4, 1:35 pm Bangladesh time).
According to the notification, among them, the house of soldier Jasim Uddin was killed in Katinga village of Vijayanagar police station in Brahmanbaria, the house of soldier Jahangir Alam in Dakshin Titpara village of Dimla police station in Nilphamari, and the house of soldier Sharif Hossain in Garak Rua village of Belkuchi police station in Sirajganj.
According to ISPR, an infantry battalion (Banbat-8) of the Bangladesh Army deployed in the Boer area in the western sector of the Central African Republic has been engaged in peacekeeping across a wide area since November 9, 2021.
A team of mechanized patrols led by Major Ashraf from one of the temporary camps deployed in remote areas patrolled the Kaita area on Monday (October 3) at 7:30 pm. At 1:35 PM Bangladesh time, the first vehicle carrying Patrol Commander Major Ashraf was hit by an IED buried in the ground. The car was thrown about 15 feet away. Soldier Sharif, Soldier Jahangir, and Soldier Jasim were seriously injured on the spot.
Immediately after the incident, an all-out effort was made to rescue the injured peacekeepers in remote areas, under inclement weather, and deep darkness for first aid and advanced treatment. The joint efforts of the Mission Headquarters, United Nations Headquarters, and relevant departments of the Central African Republic Government quickly brought them to Minuska Hospital located in Boare 144 kilometers away between 6:30 am and 7:50 am local time. Hussain was declared dead.
ISPR also informed that the injured Major Md Ashraful Haque is undergoing treatment. Currently, his condition is stable. Other peacekeepers deployed to the Central African Republic are safe. The process of bringing the bodies of dead soldiers to the country as soon as possible is underway.
Despite risking their lives, the peacekeepers of the Bangladesh Army are maintaining the highest professionalism in peacekeeping operations in 8 African countries, keeping the status of Bangladesh intact in the world court, and Bangladesh is in the top position as a country that sends peacekeepers to the United Nations.