World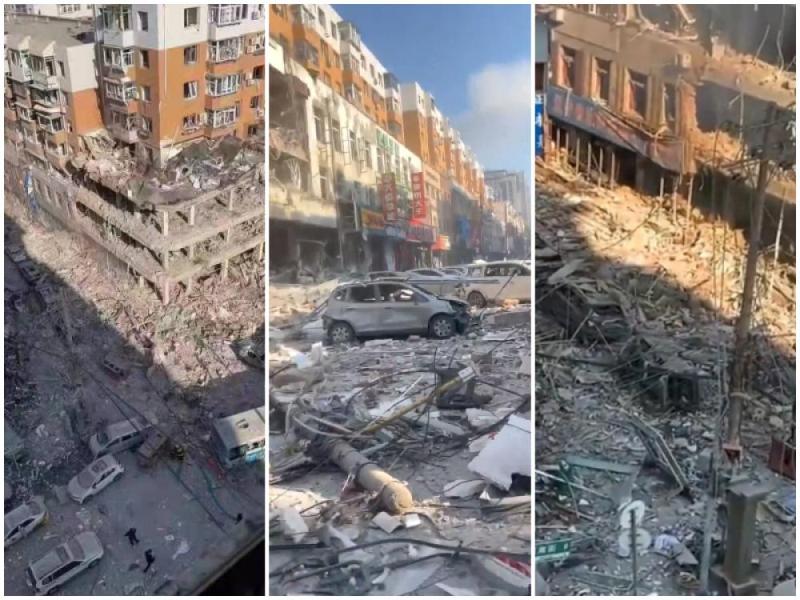 Screengrab from Twitter videos
At least 3 killed, dozens injured in massive gas explosion in northeast China
Shenyang, China, October 22: At least three people have died and more than 30 have been wounded in a suspected gas explosion at a restaurant in the northeastern Chinese city of Shenyang on Thursday morning, local authorities said.
According to local media reports, the powerful explosion rocked a residential-cum-commercial building in Shenyang, northeast China's Liaoning Province, at about 8:20 am. local time (GMT+8).
Local authorities said 25 fire trucks along with more than 100 firefighters had been mobilized for the rescue operation.
Officials said all the injured have been shifted to local hospitals.
Multiple videos of the scene shared on social media show how a three-storey building, which is the centre of the incident, has been destructed by the massive explosion while debris have littered across the area damaging nearby buildings and a large number of cars parked at the area.
An investigation has been initiated into the exact cause of the huge explosion, according to reports by the Chinese media quoting local authorities.
Local media reported citing multiple sources that construction works on the gas pipeline had been carried out in the area the previous night, though it was not immediately clear whether this was connected to the explosion.
Chinese media outlets said officials of the gas company have been sent to the scene to cooperate with the ongoing probe.