World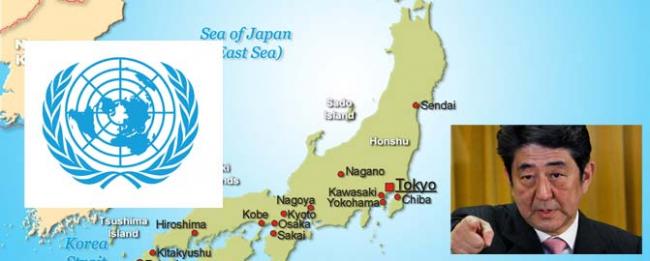 Ban highlights Japan's role in northeast Asia
New York, Jan 10: Japan's economy, its role in northeast Asia and its reconstruction after the devastating 2011 earthquake and tsunami were among the topics covered by United Nations Secretary-General Ban Ki-moon in a telephone conversation on Tuesday night with the country's recently-elected Prime Minister, Shinzo Abe, according to the UN chief's spokesperson.
"He expressed his support to the Prime Minister's intention to strengthen Japan's economy and reconstruction after the Tohoku earthquake and tsunami of 2011," the spokesperson added in information provided to the media Wednesday.
"The Secretary-General stressed the importance of Japan's role in Northeast Asia, and commended Japan's efforts regarding nuclear disarmament," the spokesperson continued. "He expressed his concern for North Korea's [Democratic People's Republic of Korea, or DPRK] use of nuclear weapons, and also referred to his preoccupation with the humanitarian situation in that country, and to the need to resolve the issue of abductions."
Having served in the post previously, the Prime Minister was elected to the post once again in late December last year – the UN Secretary-General also congratulated him on his appointment.
According to the information provided, Prime Minister Abe concurred with the UN Secretary-General in the importance of the issues raised by him and expressed his determination to strengthen the relationships between Japan and the UN, and between Japan and its neighbouring countries.
"He agreed on the need for resolute Security Council action on the use of nuclear weapons by North Korea," the spokesperson said. "The Prime Minister also expressed his willingness to work on the improvement of the human rights situation in North Korea and in resolving the issue of abductions."
In December last year, the UN Secretary-General and the Security Council spoke out against a rocket launch announced by the DPRK, calling it a clear violation of the Council's demand that Pyongyang not conduct any launch using ballistic missile technology.
According to media reports, it soared over Okinawa, Japan, dropping debris into the sea off the Korean Peninsula, the East China Sea and waters near the Philippines.
On March 2011, Japan was struck by an earthquake and tsunami that killed more than 20,000 people in the Tohoku region of northeastern Japan.
In addition to causing widespread destruction, the tsunami also slammed into the Fukushima Daiichi nuclear power station, located in Fukushima prefecture, disabling cooling systems and leading to fuel meltdowns in three of the six units.