World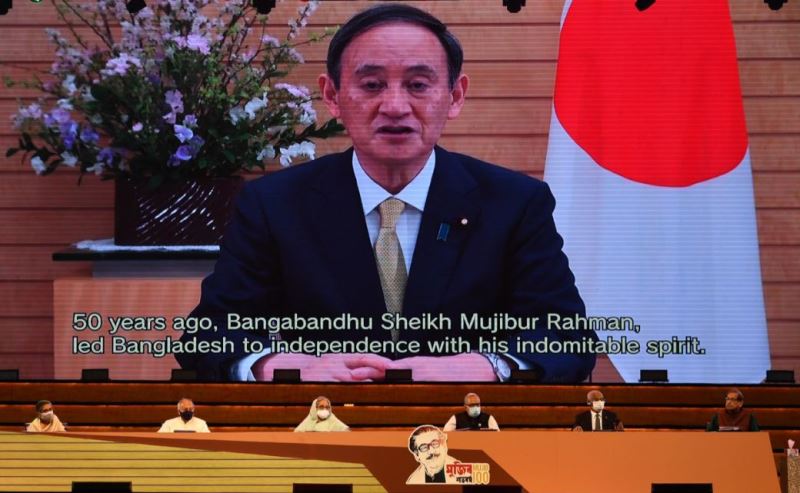 PID
Bangabandhu is the architect of Bangladesh-Japan alliance: Yoshihide Suga
Tokyo, March 18: The Prime Minister of Japan Yoshihide Suga has said that Bangabandhu is the first person to establish Bangladesh-Japan alliance. During Bangabandhu's visit to Japan from Bangladesh, the horizon of Bangladesh-Japan financial cooperation was unveiled.
He was speaking at the first day of a 10-day program on the birth centenary of Father of the Nation Bangabandhu Sheikh Mujibur Rahman and the golden jubilee of independence on Wednesday (March 18th). The Prime Minister of Japan Yoshihide Suga read out the greetings recorded in the video.
Referring to Bangabandhu's visit to Japan, Prime Minister Yoshihide Suga said that during his visit to Japan, Sheikh Mujibur Rahman naturally expressed his desire to build his Bangladesh on the model of Japan. Welcoming him at a reception held at the office of the Prime Minister of Japan, the then Prime Minister. Tanaka commented on Prime Minister Sheikh Mujibur Rahman: "He seems to be like our Hirobumi Ito." Ito was Japan's main national leader.
In the video message, Yoshihide Suga highlighted Bangladesh's friendly relations with Japan. He said Japan was one of the first few countries in the world to recognize Bangladesh 50 years ago.
He added that although Japan had established diplomatic relations with independent Bangladesh since February 10, 1972, the Japanese had a centuries-old relationship with the Bengalis. Historically, Bengalis consider Japan as a friendly country.
Earlier, the program was inaugurated at 4 pm at the National Parade Square in the capital with the performance of the national anthem by the children artists. Then the theme song of Mujib Centenary was presented. It is written by poet Kamal Abdul Naser Chowdhury and composed by Naqib Khan.
Later, a record video of an interesting flyfast of Bangladesh Air Force was presented.