World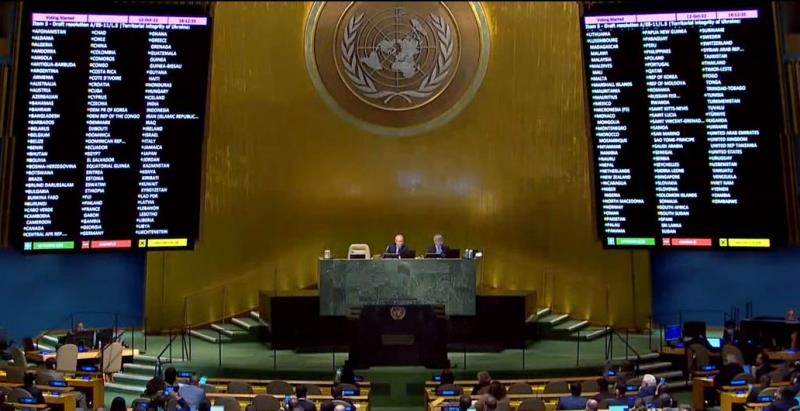 Photo: Collected
Bangladesh, 142 other countries vote against Russia in UN
New York, Oct 13: One hundred forty-three countries, including Bangladesh, voted in favour of a UN resolution condemning Russia for demarcating four regions of Ukraine. However, 35 countries, including India, Pakistan, and China, abstained from voting. A total of five countries, including North Korea and Syria, voted against this proposal.
A resolution to reaffirm the sovereignty, independence, unity, and territorial integrity of Ukraine within internationally recognized borders was tabled at the United Nations on Wednesday (October 12). Three-quarters of the members of the General Assembly voted against Russia. Only Russia, Syria, Nicaragua, North Korea, and Belarus voted against the resolution. Among the 193 members of the General Assembly, the remaining 10 members did not give any opinion.
Since the Russian troops invaded Ukraine on February 24, the United Nations General Assembly has passed four condemnation resolutions against Russia. However, among these, the highest number of votes against Moscow was on Wednesday. Before the vote, Russia's ambassador to the United Nations, Vasily Alekseevich Nebenzya, complained that the proposal was political and provocative. This could undermine all efforts for a diplomatic solution to the ongoing crisis.
However, Ukraine's ambassador to the United Nations, Sergiy Kyslytsya, expressed joy, calling the results of the vote "surprising". And Linda Thomas-Greenfield, the US ambassador to the organization, said that this result showed that Russia could not scare the world.
The United Nations General Assembly passed a similar resolution condemning Russia's annexation of Crimea in 2014. On that day, 100 countries voted in favor, 11 against and 58 countries abstained from voting.
Qatar-based media Al Jazeera reported that before the vote on Wednesday, the Western countries including the United States lobbied to increase public opinion against Russia. US Secretary of State Antony Blinken held a virtual meeting with diplomats of more than 100 countries last Tuesday. In view of this, compared to 2014, it is assumed that dozens of votes have been cast against Russia this time.
Earlier, on March 2, the General Assembly passed a resolution to stop the attack on Ukraine. One hundred and forty-one votes were cast in favour of it. Bangladesh abstained from voting on that day.