World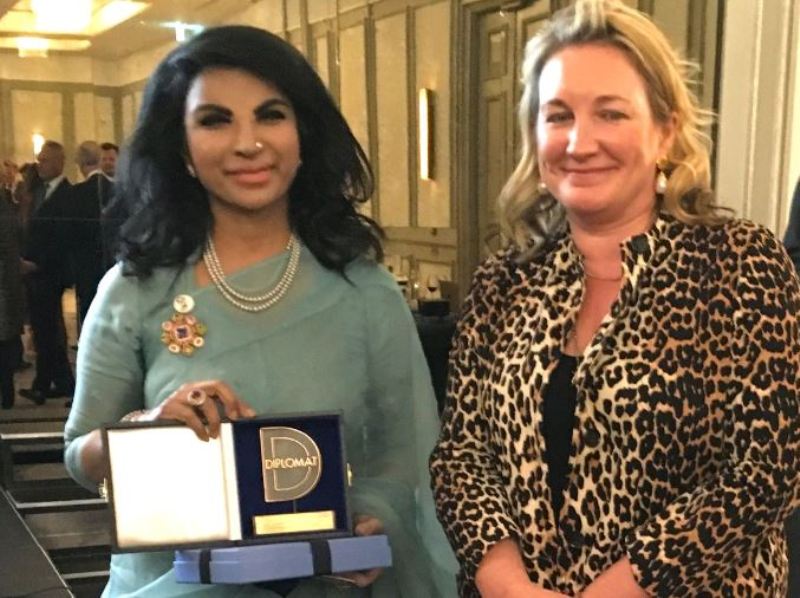 Photo: Collected
Bangladesh's High Commissioner to UK receives 'Diplomat of the Year' award
London, April 29: Bangladesh High Commissioner to the United Kingdom, Saida Muna Tasnim, has been awarded the 'Diplomat of the Year Award 2022' by the world-renowned UK-based Diplomat magazine for her outstanding contribution to climate diplomacy.
The Foreign Ministry said in a press release on Thursday that the award was presented to the High Commissioner by the editor of Diplomat Magazine at a colourful ceremony on Monday (April 25) in the presence of more than 250 diplomats at Biltmore Mayfair in London. This is the first time a Bangladeshi diplomat has been given such a recognition in the UK.
The 'Diplomat of the Year Award' is a special prestigious award given by UK-based Diplomat Magazine, which is given annually on the basis of nominations and votes of ambassadors from more than 165 UK-based countries.
While presenting the award to High Commissioner Saida Muna Tasnim, Venetia de Blocq van Kuffeler, Editor of Diplomat UK, said, "She has been honoured for her outstanding contribution and leadership in climate diplomacy in London, as well as for her continued initiatives and achievements in strengthening Bangladesh-UK diplomatic relations."
Receiving the 'Diplomat of the Year' award, High Commissioner Saida Muna Tasneem said, "This recognition, especially for climate diplomacy, is a matter of great pride for me and my country. I am very grateful to my dear ambassadors for nominating me for this award."
The High Commissioner further said, "I am deeply grateful to Prime Minister Sheikh Hasina who gave me the opportunity to conduct climate diplomacy for Bangladesh in London during the COP-26 and the 'Climate Vulnerable Forum', an important year of Bangladesh's presidency."
The High Commissioner dedicated her award to millions of climate migrants and countless people affected by climate change in different countries, including Bangladesh.
The 'Diplomat of the Year Award', presented for the last 12 years, is considered the most prestigious recognition for London diplomats and is one of the highlights of the performance and achievements of diplomats from more than 165 London-based countries.