World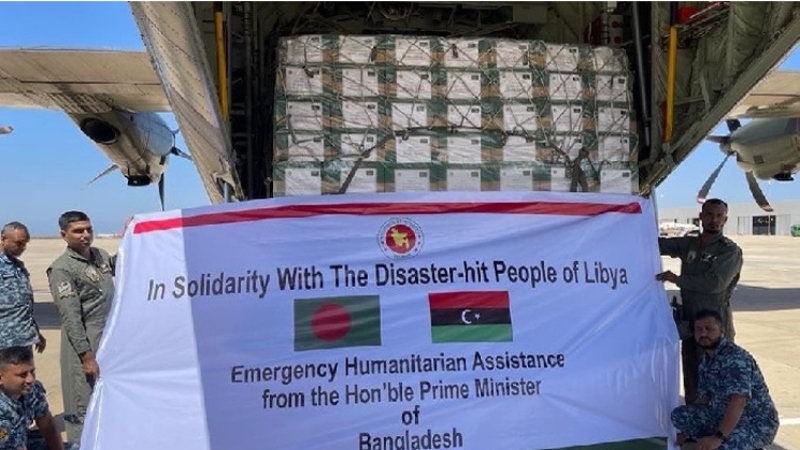 Photo: Collected
Bangladesh's relief reaches flood-hit Libya
Tripoli, Sept 16: The government of Bangladesh has sent relief materials including medicine and dry food to the people affected by the floods in Libya. A Bangladesh Air Force C-130J transport aircraft arrived in Libya on Friday with essential supplies.
This information was shared in a press release of Bangladesh Embassy.
It is said that the government of Bangladesh has taken urgent humanitarian assistance steps as soon as possible for the people of the affected areas including Darna, Sahat, Al-Baida and Al-Marj due to cyclone Daniel and floods. In view of this, under the management of the Ministry of Foreign Affairs, Ministry of Disaster Management and Relief and Armed Forces Division, the C-130 aircraft of Bangladesh landed at Benina International Airport in Benghazi on September 15 with the necessary logistics support, emergency medicine and relief materials.
Meanwhile, Bangladesh Ambassador to Libya Major General Abul Hasnat Muhammad Khairul Bashar welcomed the delegation of Bangladesh Air Force. Later, the ambassador officially handed over the relief materials of the Bangladesh government to the Libyan Humanitarian Relief Agency. Two Libyan ministers and high-ranking officials of the government were present at the time.
The government and people of Libya expressed their gratitude and appreciation to Bangladesh, especially the Prime Minister, for extending a hand of support to the people affected by the floods in the eastern part of Libya in the catastrophic cyclone.