World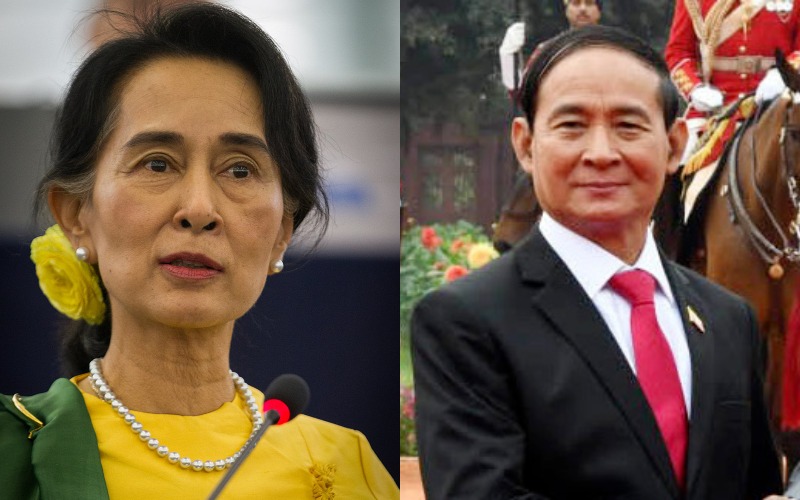 Suu Kyi Photo: Claude TRUONG-NGOC/Wikipedia. Win Myint Photo: Prime Minister's Office/Wikipedia
Bangladesh wants to see peace and stability in Myanmar
Dhaka, February 2: Bangladesh has expressed hope that the democratic process and constitutional system will be upheld in Myanmar. The country's military has declared a state of emergency for a year after the capture of civilian leader Aung San Suu Kyi and other senior leaders on Monday.
"As our friendly neighbor, we want to see peace and stability in Myanmar," the Bangladeshi foreign ministry said in a statement after the Burmese Military appointing a general as acting president of the country.
"Bangladesh is a strong supporter of and adherence to democratic values," the statement said.
The Ministry of Foreign Affairs further said that Dhaka is committed to developing mutually beneficial relations with Naypyidaw and is working with Myanmar for the voluntary, safe and dignified repatriation of Rohingyas who have been forcibly displaced in Bangladesh.
"We hope that these processes will move in the right direction," the statement said.
More than 11 lakh Rohingyas forcibly displaced from Myanmar have been given shelter in Cox's Bazar district of Bangladesh. Most of them have been here since August 2017, when the military launched an offensive in Myanmar. The United Nations has called the incident a "perfect example of genocide" and other human rights groups called it a "genocide." In the last three years, Myanmar has not repatriated a single Rohingya.
Myanmar's military seized power on Monday in a coup against the government of democratically elected Nobel laureate Aung San Suu Kyi, media reported. Suu Kyi has been detained along with Myanmar President Win Myint and other leaders of the Suu Kyi National League for Democracy (NLD).
The leaders were detained after days of tensions between the civilian government and the army. An army coup has been feared since last November's election.
Myanmar's military-controlled Miawedi TV said the move was necessary to maintain the country's "stability". The military has blamed the country's election commission for failing to curb "massive irregularities" in the November election.
Naypyidaw residents say troops have taken up position in Yangon's City Hall, where mobile internet and phone services have been disrupted.