World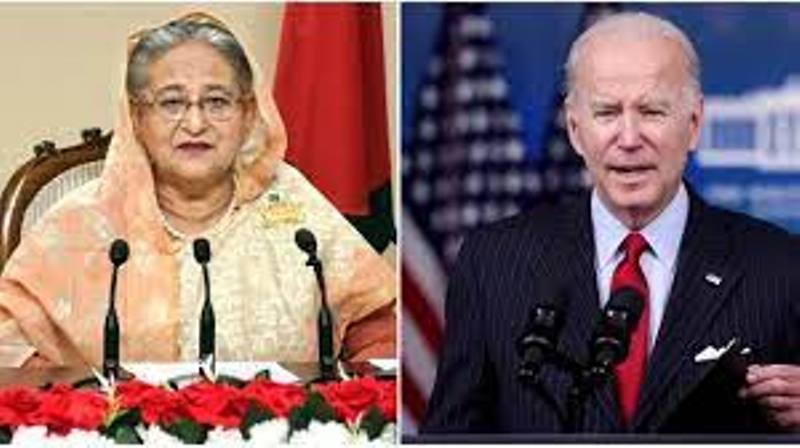 File photo
Biden wants to increase partnership with Bangladesh
Washington, DC, Apr 5: In a letter to Prime Minister Sheikh Hasina, US President Joe Biden expressed confidence that the partnership between Washington and Dhaka would be further enhanced in the next 50 years.
"I firmly believe that our partnership will continue to grow for the next 50 years and beyond," Biden's letter read whiche was written to mark the 50th anniversary of bilateral relations between the United States and Bangladesh.
"The workforce, fertile brains and innovation of Bangladeshis serve as a model to the rest of the world in rebuilding the country after the 1971 war and in the current economic growth and development," Biden said.
"We are proud of our partnership in development, economic growth and the fight against terrorism," he said.
He said the two countries share a common vision of tackling the climate crisis, helping to save the lives of Rohingyas from genocide and global peace.
Biden said Bangladeshi citizens and Americans share the same values ​​of democracy, equality and respect for human rights. These are the foundations of a good, secure and prosperous society.
The two countries have been involved in education and trade since 1958. At that time Father of the Nation Bangabandhu Sheikh Mujibur Rahman participated in a 30-day exchange programme organized in the United States.
"Our defence relationship is at its strongest ever," the US President said.
He added that Bangladesh Coast Guard and Navy are valuable partners in ensuring free movement and independence in the Indo-Pacific region. They are contributing to regional efforts to stop human and illicit drug trafficking.
Biden said the United States and Bangladesh work together to combat the Covid-19 pandemic, and Washington provided more than 61 million vaccine doses and more than USD 13 crore 10 lakh in financial assistance to Dhaka.