World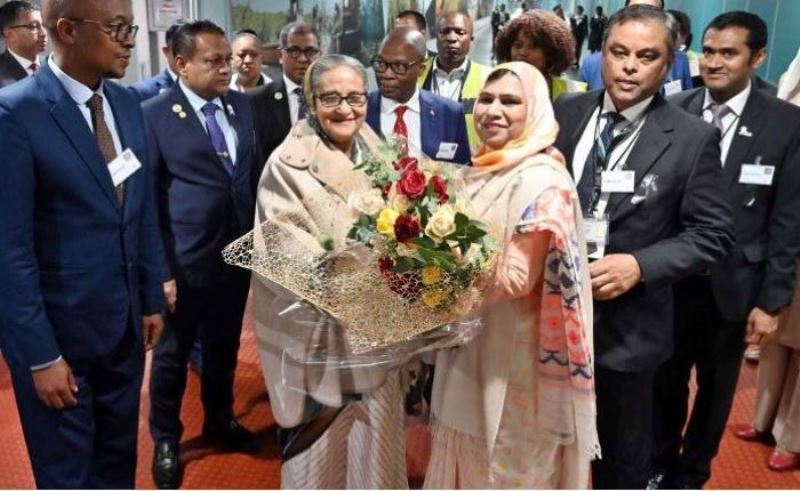 Photo: PMO
BRICS Summit: PM Sheikh Hasina arrives in Johannesburg
Johannesburg, August 23: Prime Minister Sheikh Hasina arrived in Johannesburg to attend the 15th BRICS Summit at the invitation of South African President Cyril Ramaphosa.
The flight carrying the Prime Minister landed at O R Tambo International Airport in Johannesburg at 8:35 local time on Tuesday (August 22). Prime Minister Sheikh Hasina was welcomed at the airport by South African Cooperative Governance and Heritage Affairs Minister Parks Tao and Bangladesh Ambassador to the country Noor-e-Helal Saifur Rahman. The head of the government of Bangladesh was honoured with a guard of honour.
Prime Minister Sheikh Hasina was taken to Radisson Blu Hotel Sandton from the airport. She will stay there during his visit to South Africa. Her younger sister Sheikh Rehana is also accompanying Hasina on her visit to Johannesburg.
Earlier on Tuesday morning at 10:15 am., the Prime Minister and her entourage departed for Johannesburg from the capital's Hazrat Shahjalal International Airport on a regular Emirates Airlines flight (EK 583).
South Africa is hosting the summit of BRICS, a group of major emerging economies. The countries are: Brazil, Russia, India, China and South Africa. South African President Cyril Ramaphosa, Chinese President Xi Jinping, Brazilian President Luiz Inacio Lura da Silva and Indian Prime Minister Narendra Modi are expected to attend the summit.
This will be the first BRICS summit to be held after the global travel ban due to the Covid-19 pandemic. On August 23, at Radisson Blu Hotel and Convention Center at 10 am, the Prime Minister will address an event titled 'Bangladesh Trade and Business Summit' as the chief guest. It is jointly organized by Bangladesh Securities and Exchange Commission (BSEC) and Bangladesh Investment Development Authority (BIDA).
On the same day, at 12:30 PM, she will address the 'Bangladesh Envoy Conference' organized by Bangladeshi ambassadors to African countries at Rivonia 7th floor of 'Palace of Residence'. She is likely to have a bilateral meeting with Chinese President Xi Jinping at Hotel Hilton Sandton in the afternoon. In the evening, Sheikh Hasina will attend a cultural programme and dinner hosted by the current chair of BRICS and the South African President at the Gallagher Estate in Johannesburg.
On August 24, the Prime Minister will speak on behalf of Bangladesh as a member of the New Development Bank of BRICS at the BRICS-Friends of BRICS Leaders Dialogue (BRICS-Africa Outreach and the BRICS Plus Dialogue). The event will begin at 9 am at the Sandstand Convention Center with the participation of representatives from 70 countries.