World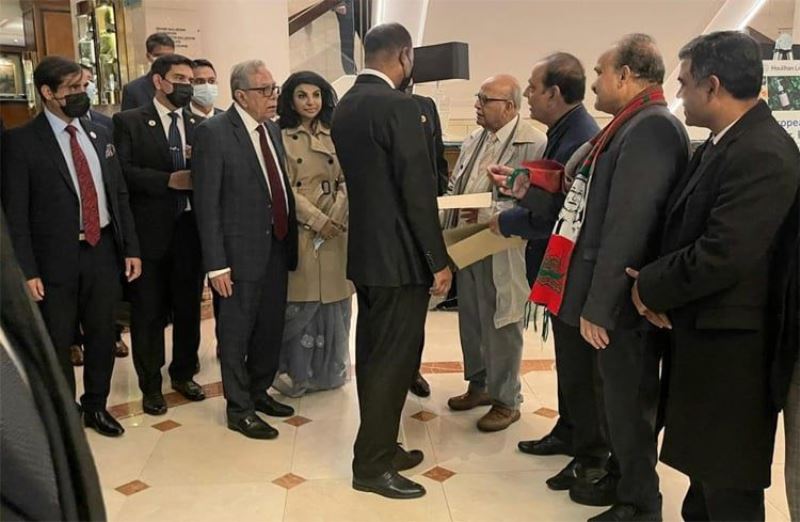 Photo: PID
Bangladeshi expatriates in UK demand to the President to solve their issues
Own Correspondent, London, Nov 18: British Bangladeshis living in Britain have presented several demands to President Md. Abdul Hamid, including ID validity, no visa and resolution of complications with passport issues for receiving government services.
President Hamid visited London as part of medical treatment abroad. Meanwhile, expatriate Bangladeshis under the banner of 'UK Awami League Unit' handed over a petition containing various demands to the President at London's Parklane Hotel on Wednesday. The demands include: UK citizens of Bangladeshi origin holding Bangladeshi passports, de-escalation of Bangladeshi visa complications, Bangladesh National Identity Card (NID) cards and power of attorney to someone to maintain or oversee financial assets in Bangladesh.
United Kingdom Branch Awami League President Sultan Mahmud Sharif said that the number of British Bangladeshis living in Britain is about 1 million. He said that British expatriates in independent North Bangladesh have been using Bangladeshi passports as IDs to execute power of attorney. Recently Bangladesh High Commission has announced that only valid Bangladeshis can use Bangladeshi passports. Many people are in trouble. And in the absence of a valid Bangladeshi passport, fear and apprehension of losing property is now being created among many.
About the claims, the information and research editor of the organization, Barrister Abul Kalam Chowdhury said, due to this complication, on the one hand, they are unable to go to Bangladesh to transfer the property due to lack of NID, on the other hand, due to lack of valid passport, what could be done from abroad has now stopped. He urged the government to take immediate action to remedy the problems.
At that time, High Commissioner of Bangladesh in UK, Sayeda Muna Tasnim, was present. Awami League UK branch president Sultan Mahmud Sharif, general secretary Syed Sajidur Rahman Farooq, organizational secretary Abdul Ahad Chowdhury, information and research secretary Barrister Abul Kalam Chowdhury and others were present.