World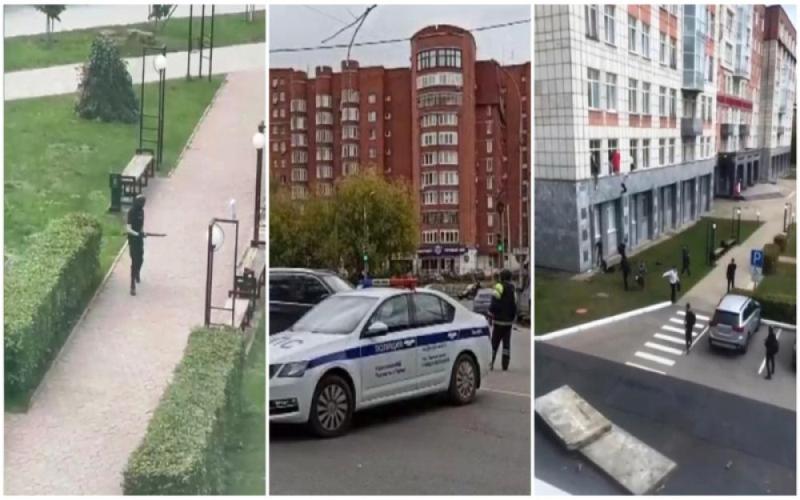 Screengrab from social media
Eight killed, several hurt in shooting at Russian university: State media
Moscow, September 20: A young shooter opened fire at a university in the Russian city of Perm on Monday, killing at least eight people and wounding six others, country's state-owned domestic news agency, RIA Novosti, reported citing the state investigators.
The report said that the assailant had entered the campus of Perm State University (PSU/PGNIU- Permskiy Gosudarstvennyy Natsional'nyy Issledovatel'skiy Universitet), one of the oldest universities in the Urals, 'with an offensive weapon' and opened fire.
Following the shooting, the university had alerted its students, teachers and staff on its Telegram channel to 'be careful, leave the campus if possible or lock themselves in a room'.
In some videos published on social media it was seen that students were jumping from a window on the first floor of the university building to escape the campus.
The shooter, identified as a student at the university where the attack happened, has been apprehended and the perpetrator was wounded as he reportedly had put up resistance during, according to the local media.
Russian news agency Sputnik reported quoting Kremlin spokesman Dmitry Peskov that Russia's President Vladimir Putin had been informed about the shooting at Perm State University and he had extended his condolences.
Russian Prime Minister Mikhail Mishustin has sent the heads of the Ministry of Higher Education and Science, and the Ministry of Health— Valery Nikolayevich Falkov and Mikhail Albertovich Murashko respectively— to Perm State University, located about 1430 kilometres (more than 880 miles) east of the Russian capital of Moscow, RIA Novosti reported.
The state media reported that the Prosecutor of the Perm Territory, Pavel Bukhtoyarov, and the governor Dmitry Makhonin had already left for the scene.
Russian media said in its report that the state investigative committee had taken charge and initiated a criminal murder investigation.