World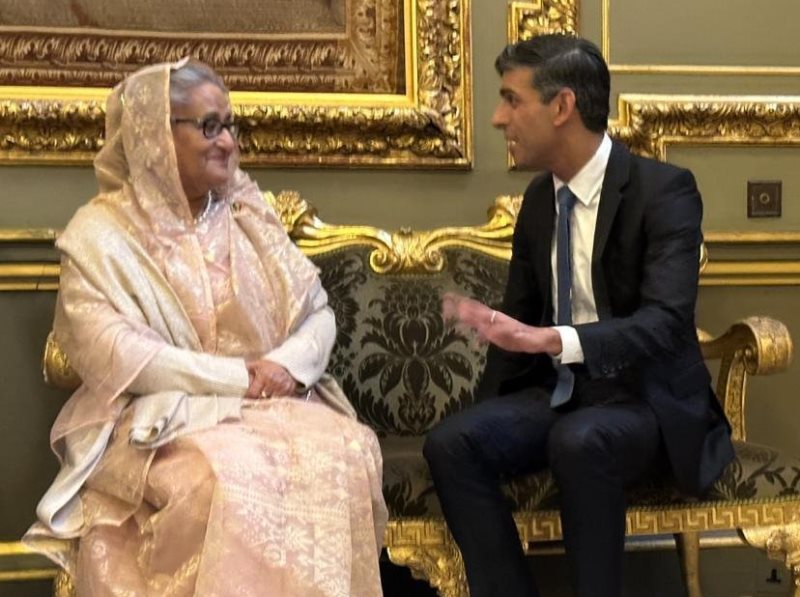 Photo: Collected
First bilateral meeting between Sheikh Hasina and Rishi Sunak held
London, May 6: The first bilateral meeting between Bangladesh Prime Minister Sheikh Hasina and UK Prime Minister Rishi Sunak has been held.
The meeting between the two leaders took place in the bilateral meeting room of Marlborough House of the Commonwealth Secretariat in London Paul Mall on Friday afternoon (May 5) local time. This is the first meeting between the two leaders since Rishi Sunak took charge of Britain on October 25 last year.
Meanwhile, Prime Minister Sheikh Hasina attended the reception of British King Charles III after attending the Commonwealth Conference in the afternoon of the same day. This reception is organized for the government and heads of state or foreign representatives before the coronation of King Charles III of the United Kingdom and his wife Camilla.
The event started at 5:15 pm local time (10:30 pm Bangladesh time) at Buckingham Palace on Friday. The leaders of the Commonwealth countries gathered on the occasion.
Earlier on the same day, the Prime Minister attended the Commonwealth Heads of Government Conference held from 3:00 pm to 4:30 pm local time (8:00 pm to 9:30 pm Bangladesh time). It was a biennial conference of heads of government of all Commonwealth countries.
The summit was held at Marlborough House, the Commonwealth Secretariat in London. It was presided over by Commonwealth President Paul Kagame of Rwanda.
On this day, from 2:00 pm to 2:45 pm local time, the head of the Commonwealth, King Charles III, directly exchanged views with the heads of government of the member states of the Commonwealth.
King Charles III will be crowned at London's Westminster Abbey on Saturday (May 6). Prime Minister Sheikh Hasina will also attend there. Heads of state and government of different countries of the world including Ireland, France, Spain, Belgium, Japan, Hungary, Australia will be present at the inauguration ceremony. According to royal tradition, the coronation of a British monarch takes place after national mourning and much preparation.