World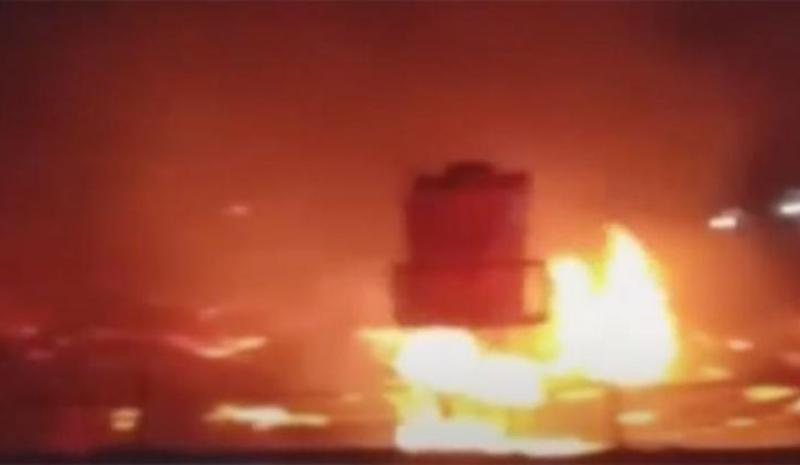 Screengrab from YouTube
Indonesia: Prison fire kills 41 inmates, injures over 80 others
Jakarta, September 8: At least 41 inmates were killed and more than 80 others were hurt in a massive fire that raged through an overcrowded prison near Indonesian capital of Jakarta in the early hours of Wednesday, AFP reported citing local authorities.
The devastating fire broke out between 1 and 2 am. local time at Tangerang prison designated for drug offenders in the Banten province near Jakarta when most of the prisoners were sleeping, DW reported quoting local police spokesperson Yusri Yunus.
Reuters reported that two foreign nationals, a South African and a Portuguese, serving drug sentences were among the deceased.
Associated Press (AP) said in a report quoting Indonesia's Justice and Human Rights Minister Yasona Laoly that most of the 41 dead were drug convicts, but one terrorism convict and a murderer were also killed in the incident.
Preliminary investigation into the cause of the fire revealed that the blaze had started at around 1:45 am. local time following a short circuit in one of the 19 calls in Tangerang prison's Block C2, which was stuffed full with 122 convicts, AP reported citing Jakarta Police Chief Fadil Imran.
Local authorities said that the situation had been brought under control and additional police force as well as soldiers had been deployed around the prison to prevent other prisoners from escaping.
Of the 81 injured, eight have been hospitalized with severe burns, nine with light injuries are undergoing treatments at a prison clinic, and remaining 64, many suffering smoke inhalation, have been shifted to a mosque in the prison compound, local media reported.
Local officials said that all 15 prison guards, who were guarding the cell block that time, had escaped unhurt.
Tangerang prison, which was designed to house 1225 prisoners, presently has more than 2000 inmates, AP reported quoting Rika Aprianti, spokesperson for the corrections department at the Justice ministry.
Rika Aprianti told local Metro TV that the C2 block of the prison, which was the epicentre of the fire, had a maximum capacity of 40 prisoners but it housed more than 120 inmates.
AFP reported quoting Indonesian Justice and Human Rights Minister Laoly that the electrical system of the prison had not been upgraded since it was built in 1972.