World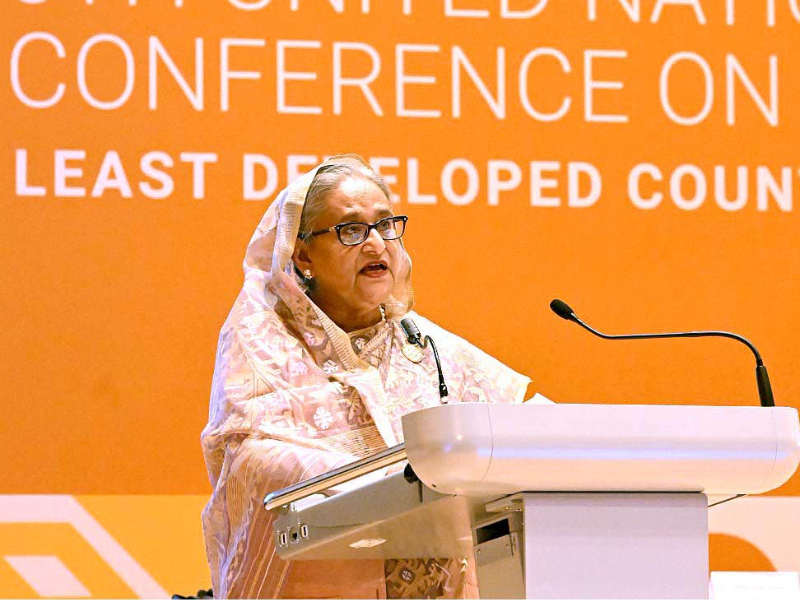 Photo: PID
LDCs must be paid their dues as promised: Prime Minister
Doha, March 6: Prime Minister Sheikh Hasina said that the Least Developed Countries (LDCs) want their due for real structural transformation as per international commitments.
She said, "I want to assure that the least developed countries will also keep their side in the bargain. Our countries do not want donations. What we want is our dues as per international commitments."
The Prime Minister was addressing the plenary session of the opening ceremony of the 5th United Nations Conference on Least Developed Countries (LDC 5: From Potential to Prosperity) at the Qatar National Convention Center (QNCC) in Doha on Sunday.
She said, the Doha programme is another assurance of hope for the world's most vulnerable countries. The international community must reconsider its commitment to real structural transformation in LDCs. LDCs should have some incentives for their performance in transitioning to LDCs. They should enjoy international assistance to LDCs for an extended period. They need to know how to build better investment and productive capacity.
Sheikh Hasina said, there may be some innovative and transitional financing arrangements for them. However, LDCs need sustained support to double their share of global trade.
"ODA targets for LDCs of developed countries must be met," she said.
The Prime Minister said that the international financial institutions have the means to sustain the debt in the less developed countries. Climate finance for LDCs should be made flexible and predictable. Technology transfer to LDCs needs to be real and meaningful. "Our migrant workers need protection for their rights and well-being. We cannot fail the 226 million youth in LDCs."
In the meeting, the Prime Minister of Bangladesh said that the pandemic and then the war in Ukraine have given a big shock to the LDC economy. The increase in food and energy prices in the international market has led to inflation in most of the least developed countries. Added to this is the climate crisis and protracted conflicts in some LDCs.
She said that most of the story of Bangladesh we have discussed for the less developed countries and highlighted the steps we have taken for cooperation.