World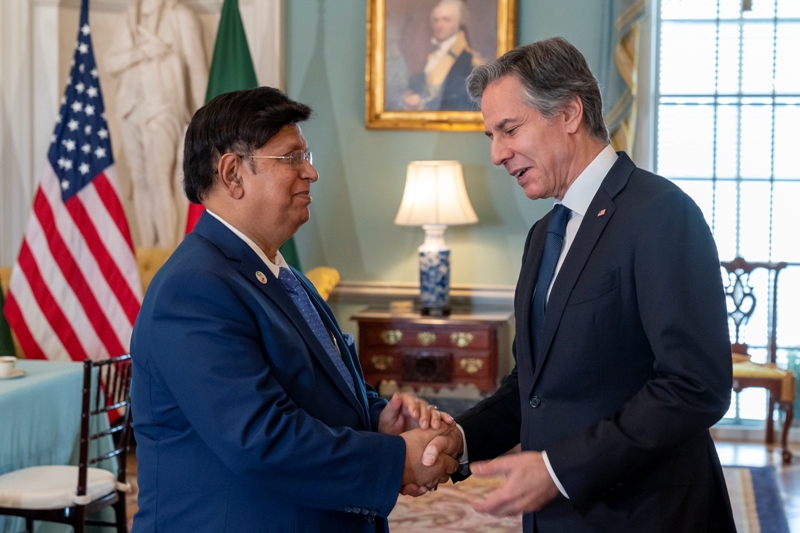 Photo: US Department of State
Momen-Blinken meeting: Discussions on trade-investment, sanctions and Rashed Chowdhury
Washington, DC, April 6: In a bilateral meeting with US Secretary of State Antony Blinken in Washington DC on Monday, Foreign Minister Dr. AK Abdul Momen raised a number of issues, including increasing trade and investment, lifting sanctions against the RAB and handing over Bangabandhu's assassin Rashed Chowdhury.
After the celebrations of the 50th anniversary of bilateral relations between Bangladesh and the United States at the State Department, Momen told the media, "We have had excellent discussions with Blinken. In his introductory remarks, Blinken said Washington is willing to work with Dhaka to further strengthen bilateral ties between the United States and Bangladesh."
Dr. Momen said, "Blinken said that Bangladesh has become a model of development, Washington is really looking forward to start working together in the next 50 years to strengthen the partnership between the two countries."
Momen told Blinken that 50 years ago Bangladesh was in danger of becoming a bottomless basket, but now Bangladesh has become a land of possibilities. He said the meeting discussed a wide range of issues including ban on RAB, extradition of killer Rashed Chowdhury, increase in trade and investment, restoration of GSP facility, Rohingya issue, Indo-Pacific strategy, climate change and Bangladesh's electoral process.
The Foreign Minister said that he had called on the US side to lift sanctions on RAB and some of its current and former officials. Because, this elite force has played an important role in suppressing terrorism and drug trafficking in Bangladesh.
Momen said the RAB was a major problem for militancy and terrorist activities in Bangladesh when 24 people were killed and more than 300 injured in a grenade attack on an Awami League rally. In this case, the RAB played an important role (in suppressing militancy and terrorism).
The Foreign Minister also raised the issue of extradition of Rashed Chowdhury, the convicted murderer of Father of the Nation Bangabandhu Sheikh Mujibur Rahman.
Momen told Blinken that "American citizens should not give asylum to a murderer in the United States." He said there was a process of handing over Rashed before and that must be completed.